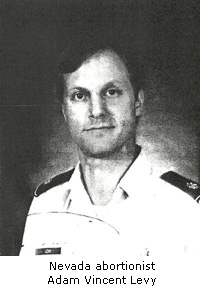 Wichita, KS – The new web site AbortionDocs.org continues to add documentation daily, detailing abuses at abortion clinics in order to draw attention to the history unsafe and illegal abortion-related practices across America.
"Abortionists have been able to hide their dirt until now, thanks to AbortionDocs.org," said Troy Newman, President of Operation Rescue and Pro-Life Nation. "Finally, the truth is available to everyone."
One example is a set of recently added documents related to Nevada abortionist Adam Vincent Levy, who works at A-Z Women's Center in Las Vegas.
According to public record documents obtained by AbortionDocs.org, Levy paid out $20,000 last year in a case alleging his negligence in the death of a patient during a botched abortion in 2007.
In 2007, Levy paid out a whopping $6 million to settle a 1995 case brought by the family of a brain-damaged child who suffered injuries as the result of Levy's misinterpretation of ultrasound findings.
In 2004, Levy settled a personal injury case for $7,500 after he allegedly inflicted second and third degree burns to a patient's private organs by inserting a hot weighted speculum during surgery.
In spite of all this, Levy has never been disciplined by medical regulators. In fact, he continues to train abortionists at the University Medical Center in Las Vegas even though his abortion practices have proven deadly to at least one patient.
"Information about Levy's malpractice history would never be readily available to the public without AbortionDocs.org," said Newman. "We are doing a public service by putting the documentation into the public forum so women can be warned about abortion abusers like Levy, who despite killing a woman, has flown under the radar of public and regulatory scrutiny."
Read Levy's profile on AbortionDocs.org.
Levy is just one example of abortionists who have abortion deaths and injuries in their pasts. More information about violations and other abuses at abortion clinics around the nation can be easily found by searching AbortionDocs.org.
"We continue to upload new documents daily, and are seeking those who can contribute more information to our database in order to make it as accurate and comprehensive as possible," said Newman.
To submit information or apply to become a contributor, please visit AbortionDocs.org/join.