By Cheryl Sullenger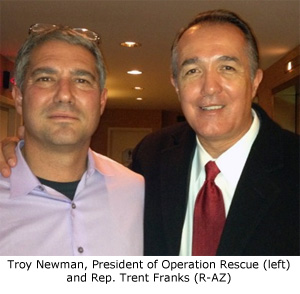 Washington, DC – A new Federal law that would protect pre-born babies that can feel pain from abortion is set for a vote in the full House on Tuesday, June 18, 2013, while its primary sponsor falls under attack by pro-abortion fanatics that support late-term abortion without restriction.
Rep. Trent Franks (R-AZ) expanded the proposed law, which would have initially only applied to Washington, DC, to apply nationwide in response to the conviction of late-term abortionist Kermit Gosnell on three counts of First Degree Murder for severing the spinal cords of late-term babies born alive during shoddy abortions at his squalid West Philadelphia abortion clinic.
The legislation, HR 1797, known as the Pain Capable Unborn Child Protection Act would ban abortions after 22 weeks gestation, when babies are known to experience pain.
Rep. Franks was taken to task by abortion supporters after noting during a hearing last week, "The incidence of rape resulting in pregnancy (is) very low" at a committee hearing.
Feminists and abortion apologists immediately began howling about Frank's statement for being "foolish and out of touch" in an effort to vilify Franks and deflect attention from the grisly late-term abortion horrors that men like Gosnell and others inflict on babies that generally could survive outside the womb if born.
However, statistics posted by the Rape Abuse & Incest National Network show that 95% of women who are raped do not become pregnant. This statistic supports Frank's statement that the incidence of pregnancy as the result of rape is very low and shows that the abortion lobby's indignation is contrived.
The abortion cartel lives in a glass house when it comes to the issue of rape. Roe v. Wade was decided on a case that was later discovered to have been based on the false claim that Jane Roe, Norma McCorvey was pregnant as the result of rape. McCorvey later admitted she had lied about having been raped. In addition, pro-life groups, including Operation Rescue, have proved time and again that abortion clinics routinely cover up the statutory rape of minor girls, placing little girls in positions where they can be further abused.
As for public opinion about late-term abortions, a recent Gallup Poll indicates that 64% of Americans oppose 2nd trimester abortion, while an overwhelming 80% oppose 3rd trimester abortion.
"Those who favor late-term abortions are the ones who are out of touch," said Operation Rescue President Troy Newman. "These fanatical abortion supporters are attempting to vilify Rep. Franks through name-calling and false accusations in an effort to derail legislation that would protect babies that can feel pain from a barbaric and inhumane death. They know if the public were allowed to actually consider late-term abortion on its own merits, the abortion lobby would lose – and lose badly."
During a hearing held in the House Judiciary Subcommittee on the Constitution and Civil Justice earlier this month, Rep. Franks boldly displayed photos that dramatically demonstrated the need for HR 1797 in the wake of revelations brought forth during the Gosnell trial. The pictures, obtained by Operation Rescue from a former employee of abortionist Douglas Karpen in Houston, Texas, depict the bodies of two very large babies aborted by Karpen that showed large gashes in their necks and pained expressions on their faces.
One former Karpen employee told Operation Rescue that the neck wounds were the result of the abortionist forcefully twisting the necks of the babies. These accusations were repeated in a video interview with three of Karpen's former clinic workers released by Life Dynamics, Inc. Operation Rescue published a full report of abortion abuses similar to Gosnell's horrific practice, the Karpen informants say occur on a daily-basis. This information clearly demonstrates that Gosnell is not an outlier and abortion abuses similar to his occur in America on an all-to frequent basis.
Meanwhile, when House Speaker Nancy Pelosi was asked about the Gosnell case last week, she responded that late-term abortions were "sacred ground" to her, revealing how fanatical and out of touch she is when it comes to the barbaric practice of late-term abortions that is rejected by the vast majority of Americans.
"Pelosi has vilified herself by making such an insensitive and inhumane statement. Late-term abortions are nothing less than gross human rights abuses. Pelosi has shamefully aligned herself with abortion policies embraced by Communist China over the deeply-held opinions of the American people on this issue," said Newman.
Today, pro-life groups are conducting a "tweet-up" in support of Rep. Franks and HR 1797, the Pain Capable Unborn Child Protection Act using the hash tag #theyfeelpain.
"We encourage everyone to post their support for HR 1797 and Rep. Trent Franks today on Twitter and other social networking sites and to contact their Congressmen and Senators in support of ending the barbaric practice of late-term abortions. Today is the day to let our voices be heard," said Newman.
Contact your Congressman in support of HR 1797
Contact your Senator in support of S 886, the Senate version of the Pain Capable Unborn Child Protection Act
Follow Operation Rescue on Twitter