By Cheryl Sullenger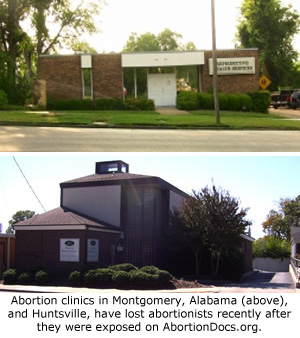 Montgomery, AL – Proving that participation in abortion is a bad career move, two Alabama abortionists have quit their jobs at abortion facilities in Alabama and turned to more reputable work.
Elizabeth Kemp, who was formerly employed with Reproductive Health Services of Montgomery, left her job as an abortionist soon after she was listed on AbortionDocs.org, a website managed by Operation Rescue that lists every abortion facility in the U.S. and all known abortion providers along with documents related to them and their practices.
Kemp's Alabama medical license status is listed as "inactive."
"So often, we find that abortion providers do not want the world to know what they do for a living, especially if abortion is a side job to their non-abortion-related career, because there is a stigma attached to being an abortionist, and rightfully so," said Troy Newman, president of Operation Rescue, co-author of the new book, Abortion Free. "We applaud those who are brave enough to stop participating in the human tragedy that abortion inflicts upon women and families, and instead use their training and skills to help and heal people."
Another former abortionist who has quit the abortion cartel is Raymond Lopez, who formerly worked for Alabama Women's Center for Reproductive Alternatives in Huntsville, Alabama.
AbortionDocs.org has deactivated their profiles as current abortionists.
In addition, abortionist Louis Thomason Payne of the West Alabama Women's Center (WAWC) in Tuscaloosa has retired, leaving that abortion facility without abortion services. Operation Rescue confirmed that WAWC is currently not taking abortion appointments with no set date for when it might be able to resume.
Reproductive Health Services of Montgomery was able to replace Kemp and now operates with three abortionists, including Aqua-don Umoren, and out-of-state abortionist Willie Parker.
Umoren, while in the employment of Planned Parenthood Southwest in Birmingham, was sued for malpractice in Federal Court by a patient who alleges that Umoren failed to properly diagnose the correct age of her pregnancy or the fact that her pregnancy was in her fallopian tube. Umoren gave her an abortion, but later, she was rushed to an emergency room suffering a ruptured 13-week pregnancy. That case has since been remanded to state court for further litigation.
Alabama Women's Center for Reproductive Alternatives in Huntsville is now staffed by Umoren and abortionist Yashica Robinson White.
In April, 2014, White was indicted by a federal grand jury for health care fraud totaling over $60,000.00 and for introducing misbranded drugs into interstate commerce.
"AbortionDocs.org is dedicated to providing documentation on abortion facilities and providers so the public can see for themselves the abuses that take place inside American abortion facilities by reading original documents. Those documents, including criminal indictments, reports of failed health inspections, medical board disciplinary orders, and other documents are available on this searchable web site," said Newman. "We urge pro-life activists who have documentation of abortion abuses to share that documentation with us so that the public can be warned of the very real and serious dangers that abortion poses to women and their babies."
Currently, there are nearly 6,000 documents pertaining to abortion facilities and providers nationwide available at AbortionDocs.org, with more documents being added daily.