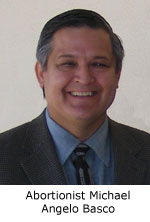 Baltimore, MD – Operation Rescue has learned that The Maryland Board of Physicians has suspended the medical license of a third abortionist associated with the notorious Steven Chase Brigham after abortion patient Maria Santiago died in February, 2013.
Michael Angelo Basco was summarily suspended from practicing medicine in Maryland on May 29, 2013, the same day two of his associates, Iris E. Dominy and Mansuor G. Panah, were also issued suspensions. All four Maryland abortion clinics operating under the name Associates in OB/GYN Care, which is affiliated with New Jersey abortionist Steven Chase Brigham, were ordered to stop all surgical abortions on May 9.
"Basco is an abortionist that had been flying under the radar," said Troy Newman, President of Operation Rescue. "Now, the public can be warned about this dangerous man who has a history of discipline and lawsuits in other states."
While Basco was not involved in Sanitago's death, he was found to have engaged in other dangerous conduct that could have resulted in grave injury or death of another woman.
According to suspension documents made public by the Maryland Board of Physicians, Basco allowed an unlicensed, unqualified worker conduct an ultrasound exam on a pregnant with a multiple gestation pregnancy. She came up with several gestational ages. Without consulting anyone, she started an abortion on the woman by administering Cytotec, a dangerous drug that induces uterine contractions, in Basco's absence. When Basco saw the woman, he refused to continue with the abortion because of the advanced fetal age and complexity of aborting twins. He gave the woman few options and essentially turned her adrift in the process of an abortion.
It was later learned that it was standard procedure at the four Brigham affiliated abortion clinics in Maryland to start all women who were beyond 11 weeks of pregnancy on Cytotec before they saw the abortionist. The Maryland Office of Health Care Quality determined that this practice posed a danger to the health and safety of the public.
This was not Bascoe's first disciplinary action.
Basco was issued a Reprimand by the Texas Medical Board on August 15, 2003, after he failed to provide information about a malpractice suit against him on an application for hospital privileges. The Texas Medical Board determined that the omission constituted "dishonorable or unprofessional conduct that was likely to deceive or defraud the public, or injure the public. "
At the same time, he had also been accused of Cytotec, an ulcer drug used off-label by abortionists to induce uterine contractions, which can be dangerously strong and unpredictable in nature by one employee, but was never disciplined.
On August 26, 2011, Texas Medical Board issued an Agreed Order, disciplining Basco for inadequate medical records and for not adequately informing a patient of all options prior to a hysterectomy. Basco was ordered to attend classes on proper recordkeeping procedures and ordered to pay an administrative fine of $3,000.
Pennsylvania and Maryland both issued Reciprocol Reprimands last year based on the Texas action.
"Even though Basco, Dominy, and Panah have all been suspended in Maryland, and four clinics ordered to halt surgical abortions, vigilance is still required because we have seen Brigham-operated clinics defy the law before," said Newman. "Brigham-operated abortion mills are among the worst in the nation. He has a history of ignoring the law, hiring troubled abortionists who are at the bottom of the barrel, and evading responsibility at every turn. His abortion clinics are continuously being closed by various states, but he finds ways to reopen them time and again. We pray that his entire chain of abortion clinics that span four states will be brought down and Brigham is put behind bars where he belongs."
Brigham's web site, which goes under the name American Women's Services, continues to list eight abortion locations in New Jersey, four in Maryland, two in Pennsylvania, and two in Virginia. Pennsylvania ordered the two abortion clinics in that state closed last year after both failed safety inspections.
Other Brigham-affiliated abortionists also have a long history of problems. Operation Rescue has been exposing these dangerous abortionists for years. [Read more about them.]
Brigham has also been known to operate secret abortion facilities. In 2010, he and his associate, Nicola Riley, operated a bi-state late-term abortion scheme designed to avoid the laws of New Jersey. Brigham would begin the abortions in New Jersey then caravan women in full labor to a secret location in Elkton, Maryland, where their abortions would be completed. That illicit operation was discovered and shut down after Riley nearly killed a patient during a seriously botched abortion. Brigham, who has never held a medical license in Maryland, was assisting Riley with the patient. Police raided the Elkton clinic and discovered the bodies of 35 late-term aborted babies stored in a freezer. Brigham and Riley were both arrested and jailed on murder charges in Maryland, but the case was dropped after an expert witness who would have testified that the babies died in Maryland, withdrew from the case.