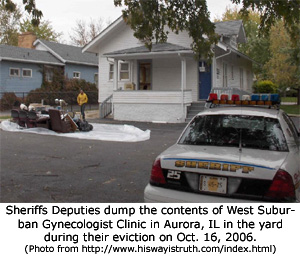 Aurora, IL — Sheriff's deputies removed medical and office equipment from West Suburban Gynecology Clinic, an abortion clinic located in the Chicago suburbs, on Monday in compliance with an court ordered eviction.
The owner of the building, abortionist Aleksander Jakubowski, operated the abortion mill there from 1991 until his retirement last year. The business was then taken over by abortionist Louis S. Myers, who rented the building from Jakubowski.
However, several weeks ago, Myers disappeared.
"I don't know what happened to them," Jakubowski told reporters. "He just vanished."
Myers has a history of disciplinary action on file with Illinois' Division of Professional Regulation, but nothing recent enough to explain his disappearance.
Jakubowski evicted his former abortion business from the building and placed the property up for sale.
"We rejoice that yet another abortion mill has closed its doors," said Operation Rescue President Troy Newman. "We pray that Myers is permanently out of the killing business and that the building will be bought by someone, preferably pro-lifers, who will use the space for some good purpose."
"We encourage pro-lifers in the Chicago area to try to buy that building and turn it into a crisis pregnancy center, or some other such office that can help save lives," said Newman.
Operation Rescue purchased a Wichita abortion mill earlier this year and is in the process of renovating it to include a memorial to the pre-born and office space for the group.
View list of other abortion clinics that have closed in the last year.