By Anne Reed

After the abortion industry took a major hit with the overturn of Roe v. Wade in late June, it ramped up its criticisms of pro-life pregnancy resource centers. Since then, at least 50 faith-based pregnancy clinics have been attacked. Rabid pro-abortion groups like Jane's Revenge have taken credit for attacking these donor-supported, non-profit pregnancy centers serving moms and families all over the country.
Pregnancy resource centers often work in concert with federally funded health clinics that do not offer abortions but do offer a variety of health services, especially for the poor. Together these facilities outnumber abortion facilities by more than 14 to 1.
Pregnancy resource centers provide free pregnancy tests, ultrasounds, and peer counseling for pregnant women and for those who experience trauma after abortion. In addition, they provide hopeful, life-affirming avenues for adoption and parenting, including parenting classes and mentors that ensure clients receive a wide array of material resources like diapers, clothing, and help finding and utilizing opportunities that bring long-term improvement to their lives.
Not only is the abortion industry trying to discredit and close these facilities but, as astonishing as it may sound, it may also be attempting to replace them with its own distorted version.
"Pregnancy Resource Center" Joins Planned Parenthood in Lawsuit
On Planned Parenthood's website, it claims that a "pregnancy resource center" joined the abortion conglomerate and others in filing a lawsuit against Indiana for its abortion ban set to go into effect on September 15.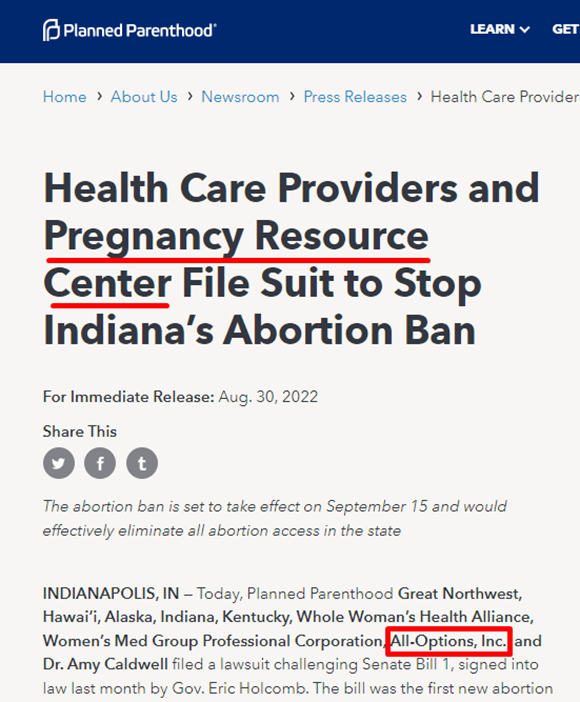 What is All-Options, Inc? Like Planned Parenthood, it is a nonprofit abortion provider. However, according to its own promotional materials, it is "based on a traditional pregnancy center model" and "provides free pregnancy tests, peer counseling, diapers, and baby clothes."
Before diapers and baby clothes are a necessity, however, this so called "pregnancy resource center" provides "abortion funding."
"Unlike pregnancy resource centers that proudly point women and families to life-affirming options," said Operation Rescue President Troy Newman, "you can be certain that any organization supported by Planned Parenthood is going to steer expectant mothers toward its answer to pregnancy – death by abortion. We can expect the rest to be a front – a bait and switch."
All about abortion
On Planned Parenthood's webpage providing a "Step-by-Step Guide to Abortion," it directs those experiencing negative emotions about abortion to call the All-Options Talkline.
It is vital for the abortion industry to keep a tight grasp on this demographic of women who have had abortions in their past and may be struggling with trauma and guilt as a result. According to the CDC's 2019 numbers, nearly 43% of women who had an induced abortion had one or more previous abortions.
Understandably, the abortion industry must stop women from entering legitimate, faith-based pregnancy resource centers where they will hear the truth about abortion and find a path toward true healing, as well as a corresponding lifestyle that recognizes the God-given value of life. A woman's entire trajectory is often changed as a result. Abortion is no longer a possibility in such a woman's future.
As abortion clinics across the country are forced to halt abortions, the abortion industry now finds itself under pressure to compete with pregnancy resource centers by presenting a similar spectrum of services. It must find ways of keeping its doors open to expectant mothers so it can continue to facilitate abortions. Planned Parenthood referral centers have the benefit of referring to other Planned Parenthood affiliates in neighboring states where abortion remains legal.
Miscarriage Management and the Abortion Pill
In states where abortion is severely restricted or banned, abortion clinics that remain open are also focusing more on "gender-affirming hormone therapy" and are adding "miscarriage management," a highly suspicious service in light of the media's unrelenting push for self-managed abortions in recent months.
While the abortion industry and its media servants claim these chemical abortions are completely safe, evidence has proven otherwise. Major publications, such as the New York Times, have advised women who experience complications after taking the abortion pill to lie and pretend they are experiencing a miscarriage when presenting at an emergency room.
According to a Charlotte Lozier Institute study that relied on Medicaid records, women who do not disclose that they have taken abortion pills average more than three inpatient hospital admissions to treat their complications. A clinic more familiar with treating this type of abortion could perhaps secure an attractive revenue stream by filing health insurance claims.
Unmistakable Misrepresentation
The abortion industry accuses pregnancy resource centers of being "fake clinics" and makes every effort to keep women from accessing their services – even if it means pretending to be pregnancy resource centers. Attorney's general in some states (Indiana, Minnesota, California, and Massachusetts) have even issued consumer warnings about pregnancy resource centers, claiming they provide misleading information about abortion.
"The misrepresentation and outright lies are unmistakably coming from the abortion cartel and the media that supports it," said Newman. "In its desperation to continue killing babies in the womb, its hunger for blood money always inevitably reveals its lack of concern for the wellbeing of pregnant women."