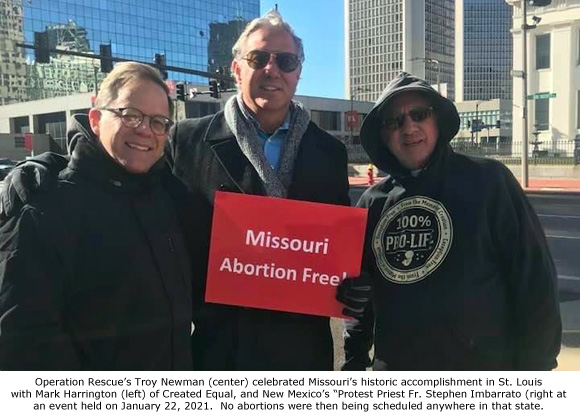 By Cheryl Sullenger
St. Louis, MO – On January 22, 2021, the 48th memorial of the Roe v. Wade Supreme Court decision that decriminalized abortion in America, pro-life activists from across the nation gathered in St. Louis to mark a happier event.  Missouri became the first state in 48 years to have no active abortion facility.
A number of speakers noted the moment, including Operation Rescue's Troy Newman, Kathy Forck of 40 Days for Life in Columbia, Missouri, and New Mexico's "Protest Priest" Fr. Stephen Imbarrato, among others, who gathered at an event sponsored by Defenders of the Unborn.
Operation Rescue learned during its annual nationwide survey of abortion facilities that the last abortion facility in Missouri, the Reproductive Health Services Planned Parenthood, located in St. Louis, had no abortion appointments available in December and none available anytime in the future.
"It is our practice to count data only for abortion facilities that are active at the time of our survey. The results represent a snapshot in time," said Troy Newman, President of Operation Rescue.  "When we determined that no appointments for abortions were available anywhere in Missouri for the foreseeable future. When a facility no longer offers abortion appointments is not really an abortion facility any more. That made Missouri the first Abortion-Free State."
Operation Rescue announced that fact on January 5, 2021.  Almost immediately, Planned Parenthood lashed out, claiming Operation Rescue's information was "confusing."
But according to information reported by the St. Louis Post-Dispatch, the Missouri Department of Health and Senior Services noted that there were only a total of 39 surgical abortions that took place in Missouri from January 1 through November 15, 2020, with no surgical abortions done in December. That information verified Operation Rescue's findings.
RHS Planned Parenthood had halted the dispensing of abortion-inducing drugs two years earlier because it did not want to comply with a Missouri law that set requirements for the distribution of the drugs. Anyone seeking a chemical abortion still has to go through their Illinois location to get them.
After news that Missouri's only abortion facility had halted the practice, rumors began to circulate that RHS Planned Parenthood would soon resume abortions.
However, as of January 26, 2021, Operation Rescue has confirmed that there are still no abortion appointments are currently available in Missouri.
RHS Planned Parenthood continues to refer abortion clients to their facility in Fairview, Illinois, where Planned Parenthood does not have to be bothered with health and safety regulations, because Illinois – unlike Missouri – is a liberal state that has essentially no laws that oversee abortion facilities
"We are well aware that the RHS Planned Parenthood continues to be licensed for abortions in Missouri, despite the state's efforts to revoke it.  We know that they could resume abortions whenever they want to.  But for now, no abortion appointments are available in Missouri, so we continue to celebrate the fact that no babies are dying from abortion in Missouri," said Newman. 
If Planned Parenthood ever resumes abortions in the Show Me State, it will only be for the purpose of optics.  But despite whatever games Planned Parenthood intends to play with the lives of women and their babies, it is clear that for a good part of 2020, no abortions were taking place in Missouri and none will take place anytime in the foreseeable future. And that is something worth celebrating.
Read Operation Rescue's Exclusive 2-Part Report on the Status of American Abortion Facilities in 2020. Part 1. Part 2.