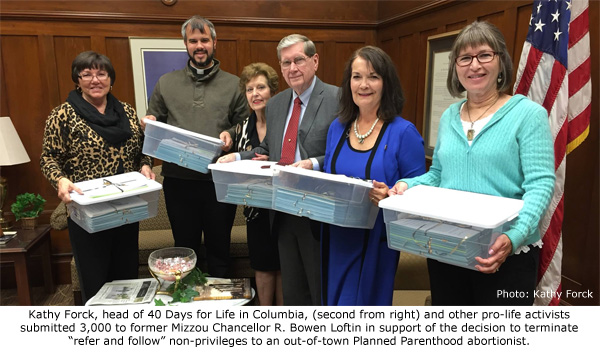 By Cheryl Sullenger
Columbia, MO — New developments at Missouri University threaten to entrench abortions in Columbia, after ties between the University, known as Mizzou, and Planned Parenthood had supposedly been severed.
Notable developments include:
• Resignation Mizzou leadership, including Chancellor R. Bowen Loftin, due to the Planned Parenthood scandal and racial tensions on the Mizzou campus, has led to the appointment of Interim Chancellor Hank Foley. this is being viewed by Planned Parenthood as an opportunity to restore hospital privileges in Columbia to their St. Louis abortionist, Colleen McNicholas.
• Petitions from both pro-life and pro-abortion supporters were submitted to Chancellor Loftin before his resignation regarding the continuation of abortions at Planned Parenthood. Pro-life supporters submitted 3,000 opposing an agreement between Mizzou and Planned Parenthood while abortion supporters submitted 2,000 supporting an agreement.
• Mizzou is now allowing McNicholas to reapply for hospital privileges at University Hospital in Columbia, a process that could take months. There is no guarantee that she will be granted the privileges, nor is there a guarantee that the University will deny them.
• State Senator Kurt Schaefer, head of the Missouri Senate Interim Committee on the Sanctity of Life who has made it clear he wants Mizzou "out of the abortion business" because if violates a ban on state funding of abortions, has received a serious death threat apparently related to a disparaging article about is stand against abortion that appeared on Al Jazeera. Schaefer described the call as an "anti-Christian rant" that was "graphic, more violent, more disturbing" than other threatening calls he has received. He has since closed his Capitol office until the threat can be fully investigated.

In the meantime, it appears that even if McNicholas reapplies for hospital privileges, the Columbia Planned Parenthood will lose its abortion facility license and halt abortions as of December 1, at least until a final decision can be made on whether or not McNicholas will receive full privileges at University Hospital.
Schaffer's interim legislative committee, which was tasked with investigating Planned Parenthood in the wake of undercover videos released by the Center for Medical Progress, had uncovered the fact that a Mizzou employee had illegally used state resources to invite abortionist Colleen McNicholas, who works at the Planned Parenthood abortion facility in St. Louis, to apply for hospital privileges at University Hospital in Columbia, then improperly shepherded her through the process.
But instead of standard hospital privileges, for which McNicholas was not qualified, she was issued bogus "refer and follow" privileges, which only allowed her to recommend patients seek care at University Hospital, but did not allow her to treat anyone there.
Based on the phony arrangement between Planned Parenthood's McNicholas and University Hospital, the Missouri Department of Health was wrongly led to believe that McNicholas had full staff privileges and issued license allowing the Columbia facility to conduct medication abortions.
Once the improper scheme was uncovered, Mizzou terminated McNicholas' bogus privileges effective December 1, 2015, which will disqualify the Planned Parenthood office in Missouri from conducting abortions.
Of concern is the fact that incomplete abortions are common complications to medication abortions. According to National Abortion Federation statistics, between two and ten percent of all medication abortions will require surgical intervention to stop hemorrhaging or to prevent infection from retained tissue.
Without proper hospital privileges, abortionist dump patients experiencing incomplete abortions or other potentially life-threatening complications, on hospital emergency rooms. In the case of University Hospital, this requires staff physicians to complete abortions, which is in violation of bans on state tax money being used for abortions.
"Planned Parenthood is working overtime right now to pressure Missouri University's interim leadership into capitulating to their demands for an agreement that would allow them to continue aborting babies with the help of a state-funded institution. Pro-life supporters must not allow these demands to drown out the voice of reason that opposes illegal involvement by the University with Planned Parenthood's dubious abortion schemes," said Troy Newman, President of Operation Rescue.
Take Action!
Please contact Interim Chancellor Hank Foley and let him know that Missouri University must stay out of the abortion business!
E-Mail: foleyh@umsystem.edu