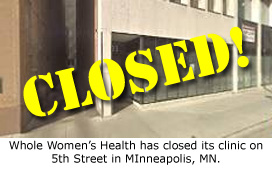 Minneapolis, MN — Operation Rescue has been notified that two abortion clinics, Womancare in Livonia, Michigan, and Whole Women's Health on Fifth Street in Minneapolis, have closed. These are the third and fourth abortion clinics to close so far in 2013.
Debra Braun of Pro-Life Action Ministries has confirmed the closing of the Minneapolis abortion business. This brings the number of surgical abortion clinics down to 652, from a high of 2,176 in 1991.
Whole Women's Health, an abortion chain headquartered in Texas, took over operations of the failed Midwest Health Center for Women, located at 33 S 5th St. in Minneapolis, in February, 2012. The chain later assumed control of another failed abortion business, Meadowbrook Women's Clinic, located at 825 S 8th St. in Minneapolis.
Whole Women's Health operated both clinics while it remodeled the 8th Street location. After the building was repaired, Whole Women's Health closed the 5th Street office last month.
"With the number of abortions dropping in Minnesota, it is obvious that Whole Women's Health could not financially continue to operate two locations. It is good news when an abortion clinic closes for lack of business," said Troy Newman, President of Operation Rescue and Pro-Life Nation.
Whole Women's Health has a checkered history. In Texas, its clinics in Austin and McAllen, were caught during an undercover investigation by Operation Rescue illegally dumping the remains of aborted babies in open and overflowing trash dumpsters. Together with Stericycle, the chain's medical waste disposal company, the abortion clinics were fined a total of $83,000.
In addition, Operation Rescue filed complaints against several abortionists associated with Whole Women's Health to the Texas Medical Board, resulting in eight of those abortionists facing Board discipline for numerous allegations, including the illegal dumping of private patient medical records, HIPAA violations, and violations of the Texas informed consent laws.
Several WWH abortionists have previous disciplinary histories, including one who was responsible for a patient death.
Also closing is Womancare, in Livonia, Michigan due to the retirement of it's notorious owner, Alberto Hodari.
"Every time an abortion clinic closes, babies' lives are saved and women are spared injury and death. Each closure is a victory that brings us closer to the day when all abortion will finally end in America," said Newman.