Wichita, Kansas – Once known as Wichita Family Planning, a rundown abortion facility was the site of high drama during the Summer of Mercy in the summer of 1991.
As temperatures soared into triple digits, hundreds of men and women jammed the alley and parking lot surrounding the squatty brick structure that housed Wichita's lesser-known abortion facility. The frustrated clinic administrator looked on, fumbling with the keys to the clinic's door, anxious for the police to clear a path so she could begin her scheduled day of child-killing.
At one point police officers mounted on horseback, also frustrated with the resolute crowd that steadfastly refused to disperse as long as innocent lives were at risk, drove their horses into the helpless crowd of praying Christians even as they lifted their voices to heaven in prayer and hymns.
Eventually, dozens of pro-life activists, including moms and dads, grandmas and grandpas, pastors and businessmen, were arrested and hauled away on city buses.
Eventually, the killing resumed.
Fast forward to 2006. Central Family Planning – that same abortion business that had survived that hot, tumultuous summer of 1991 — was in serious financial trouble, so much so that they had been secretly underpaying their rent for months.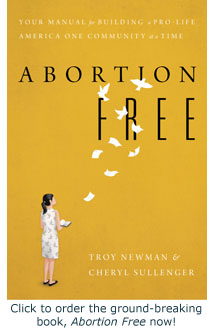 In their new book, Abortion Free, Troy Newman and Cheryl Sullenger of a newly revamped Operation Rescue, relate how they used an unexpected opportunity presented by this struggling abortion business to finally close that abortion clinic down – not for a few hours or for a day – but permanently.
They share how that facility now stands as a testimony to the community and the nation of God's redemptive power as it serves as Operation Rescue's National Headquarters.
Instead of being a chamber of killing and untold suffering, Operation Rescue is now using the facility to save innocent lives by working a simple plan that is closing abortion clinics across America.
Newman and Sullenger now share that plan with you in their new book, Abortion Free: Your Manual for Building a Pro-Life America One Community at a Time.
Through often dramatic stories from their 50 years of combined pro-life experience, including their all-out effort to shut down the largest late-term abortionist in the free world, Newman and Sullenger outline that plan step by step, which has already proven to be effective at reducing abortions and creating abortion free communities.
Abortion Free is a "must read" for everyone who wants to see abortion end and babies saved!
Abortion Free is available now at Amazon.com. Don't wait another day! Order your copy today!
For Media Bookings for Troy Newman or Cheryl Sullenger, please contact WND Marketing Department at (571) 612-8600 or email Media@WND.com.