[Below is a press release from Abortion Clinic Cockroaches, posted here for your information and entertainment. -Operation Rescue Staff]
For Immediate Release
Contact Roachy: 316-518-9284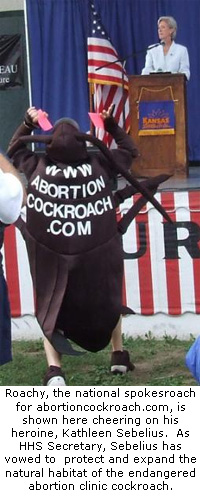 Washington, DC – Abortion Clinic Cockroaches have come out of their dark closets to endorse Kathleen Sebelius as Health and Human Services Secretary. In an unprecedented move by what is normally a clandestine organization, Abortion Clinic Cockroaches have united behind the nomination of their Queen, Kathleen Sebelius.
Governor Sebelius named the Abortion Clinic Roach as her official mascot of her victorious 2006 gubernatorial campaign after vetoing Kansas HB2503, a safty regulatory law that would have exterminated all Abortion Clinic Cockroaches in Kansas.
After stamping VETO on HB2503, Gov. Sebelius told the endangered species at their annual roach infestation (that is what you call a gathering of roaches), "Operation Rescue will stop at nothing to massacre this Kansas indigenous species, therefore with the stroke of my pen, I hereby grant special protection to the Kansas Abortion Clinic Cockroaches."
"The Abortion Clinic Cockroach is fast becoming an endangered species due to loss of natural habitat. My brood was left homeless when Operation Rescue bought the Central Women's Services abortion clinic in Wichita, KS. We were forced to sleep under a freeway overpass until taken in by late-term abortionist George R. Tiller. Kathleen Sebelius is our only hope to recover our once great numbers," said Roachy, a national spokesroach for www.abortioncockroach.com.
The Kansas Infestation calls upon future HHS Secretary Sebelius to grant protection to Abortion Clinic Cockroaches in all 50 states and work toward hate crime legislation that would ban the use of offensive language against Abortion Clinic Cockroaches and severely punish those who try to squish us.
"Sebelius must abolish all discriminatory laws that seek to destroy our race. Our cousins once invested over 2,100 abortion clinics but now our range has been reduced to fewer than 730 abortion mills nation-wide. At this rate we will be extinct before the end of the decade! We won't go back!" said a defiant Roachy.
"Endorse abortion, sanction abortion clinics, and give your unyielding approval to our future Queen of the Abortion Clinic Cockroaches, Kathleen Sebelius!"
For more information on you can help the plight of this endangered species go to http://abortioncockroach.com/default.aspx.