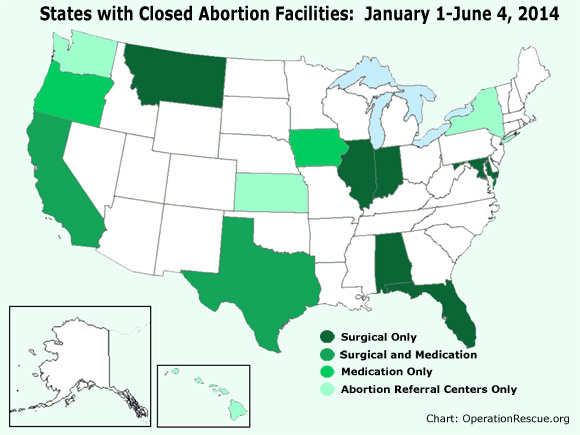 By Cheryl Sullenger
Gresham, Oregon — Planned Parenthood Columbia Willamette announced yesterday that it will be closing offices in Gresham and Clackamas, Oregon, and Salmon Creek, Washington. It also said that it closed the McMinnville, Oregon, office two months ago.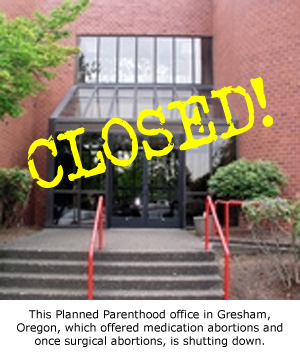 The Gresham and McMinnville offered abortion services, while the other two office served as abortion referral centers.
This follows on the heels of an announcement by Planned Parenthood of the Heartland that it will shutter webcam abortion facilities in Red Oak and Creston, Iowa, as of June 18. Those offices offered the abortion pill through a controversial process where an abortionist would interview women over an Internet video conferencing connection then would dispense abortion drugs by remotely releasing a drawer containing the pills. Women are never seen in person by a licensed physician and have no access to one at Planned Parenthood in the event of an emergency.
Operation Rescue discovered that the Red Oak and Creston offices had actually terminated abortion services in December, 2013.
In Kansas, Planned Parenthood of Kansas and Mid-Missouri announced the closure of its Hays abortion referral center last month after dropping a challenge to a 2011 state law that stripped Planned Parenthood of over $300,000 in tax money annually.
"The demand for abortion had dropped significantly in America so there is more competition for every abortion dollar. Planned Parenthood's bloated organizations are collapsing under their own weight," said Newman. "But more importantly, Planned Parenthood is feeling the heat from new legislation that is forcing it to comply with new safety regulations and halting tax money that has freely flowed into its coffers for years. The downsizing of Planned Parenthood is one of many indicators that we are winning. Closed abortion facilities always translate into reduced abortion rates – and that means lives are being saved."
So far this year, preliminary numbers show that twelve surgical abortion facilities have closed along with six medication abortion clinics and five abortion referral centers. More are expected to close as new abortion laws in several states, such as the requirement that abortionists maintain local hospital privileges, go into effect. Last year, a record number of abortion facilities shut down, including 87 surgical centers and six that offered only medication abortions.
Operation Rescue tracks the number of abortion facilities nationwide at AbortionDocs.org, which also provides public records and other source documents that document abortion industry abuses nationwide.