Whole Women Health Alliance failed to be of "reputable and responsible character."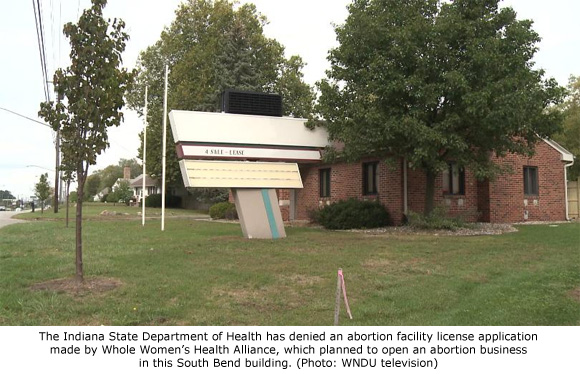 By Cheryl Sullenger
South Bend, Indiana – Indiana television station WNDU is reporting that the Indiana State Department of Health has denied an application for an abortion facility license submitted by Whole Women's Health Alliance, a Texas based chain of abortion facilities.
WNDU also published a link to the Indiana State Department of Heath's denial letter to the abortion chain.
According to that letter, Whole Women's Health Alliance submitted an application an August 11, 2017, with the intent of opening an abortion facility in the community of South Bend. The supplemented that application with additional information on October 6 and December 8, 2017.
However, despite the supplemental information, the Department of Health found the information inadequate, and possibly deceptive. The denial letter stated in part:
In response to the Department's request to list all of the abortion and health care facilities currently operated by WWHA, its parent, affiliate, and subsidiary organizations, WWHA failed to disclose, concealed, or omitted information related to additional clinics.
Based on the Department's review, the Commissioner finds WWHA failed to meet the requirement that the Applicant is of reputable and responsible character and supporting documentation provided inaccurate statements of information. . .You are hereby notified that the Commissioner has Denied the license application of WWHA dated August 11, 2017 (supplemented on October 6, 2017 and December 8, 2017).
Whole Women's Health Alliance attempted to expand into South Bend after a troubled abortion facility owned and operated by disgraced abortionist Ulrich Klopfer was forced to close after Indiana Right to Life organizations filed complaints alleging Klopfer failed to report suspected child abuse in a timely manner as required by law. As a result, Klopfer was criminally charged in two counties and his medical license was suspended.
"This is certainly a huge victory for the hard-working pro-life groups in Indiana, and for women and babies who will now be protected from Whole Women's Health's known shoddy abortion practices," said Troy Newman, President of Operation Rescue.
Whole Women's Health facilities in Texas came under scrutiny after Operation Rescue uncovered numerous violations during an investigation. Because of Operation Rescue complaints, two Whole Women's Health facilities in Austin and McAllen were heavily fined for discarding recognizable human remains from abortions into an open, overflowing dumpster, and improperly disposing of other remains through Stericycle, which was also fined.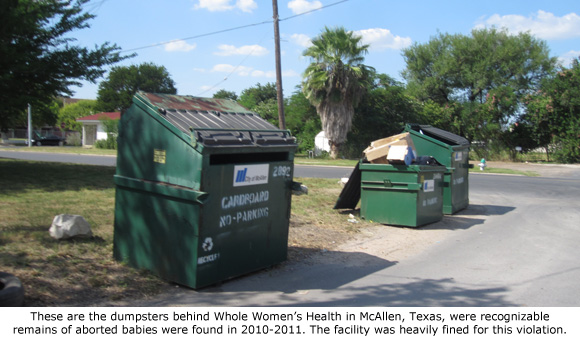 Also, two Whole Women's Health abortionists, Alan H. Molson and Robert E. Hanson, were fined thousands of dollars for violations discovered as a result of Operation Rescue complaints.
Since then, Whole Women's Health facilities have failed health and safety inspections, raising concerns about safety and sanitation at its facilities.
Whole Women's Health now operates four Texas abortion facilities in Austin, Ft. Worth, McAllen, and San Antonio. It also runs facilities in Baltimore and Minneapolis. An attempted expansion into Las Cruces, New Mexico, in 2014, failed when the abortion business was unceremoniously closed for lack of business in January 2017.
WWH is also operating abortion offices in Peoria, Illinois, which it took over from another abortion provider in 2015, and in Charlottesville, Virginia, where it acquired the now defunct Charlottesville Medical Center for Women last year.
"We have every reason to believe that wherever Whole Women's Health operates, health and safety code violations are taking place that endanger the public," said Newman. "We are grateful to the Indiana Department of Health for denying this abortion business a license because we know it will save lives."

Read IDOH denial letter to WWHA