By Cheryl Sullenger
Bakersfield, CA — Operation Rescue has obtained revealing 911 records related to a medical emergency that took place on February 23, 2016, at a FPA Women's Health abortion facility in Bakersfield, California, where pro-life activists were attacked while attempting to document the emergency.
Operation Rescue received records related to five 911 calls that were placed that day, which proved the FPA Women's Health abortion facility never used the 911 system to summon an ambulance for a patient who suffered an known medical emergency that required transport to a local hospital.
The fastest way to summon an ambulance is through the 911 exchange. Many abortion facilities, including the Bakersfield FPA, have resorted to calling non-emergency numbers or private ambulance services when patients face live-threatening medical emergencies in order to prevent pro-life activists from obtaining the public 911 records and learning the truth about serious injuries that are taking place on an all-too-frequent basis at abortion facilities.
"The abortionists would rather delay emergency care to an injured patient than call 911 and take the risk that we might request the records. It is all about covering up the bad things that happen in their abortion facilities, and not about what's best for the woman," said Operation Rescue President Troy Newman. "But they have no problem placing a call to 911 to make a false report about pro-life supporters who are trying to document the incident."
Records show that the only 911 call placed by FPA medical staff was to make a false report that pro-life protestors were "getting in the way of our patient, who is leaving here by ambulance."
A woman who identified herself as a nurse, told the 911 dispatcher, "We're trying to transfer a patient to the emergency room and these people in the way of us getting to the ambulance."
However, photos taken at the scene clearly show that pro-life activists were always on the public sidewalk and never interfered with the ambulance in any way as they attempted to document the incident. The false report was made while pro-life activists were under attack by a supporter of the abortion business.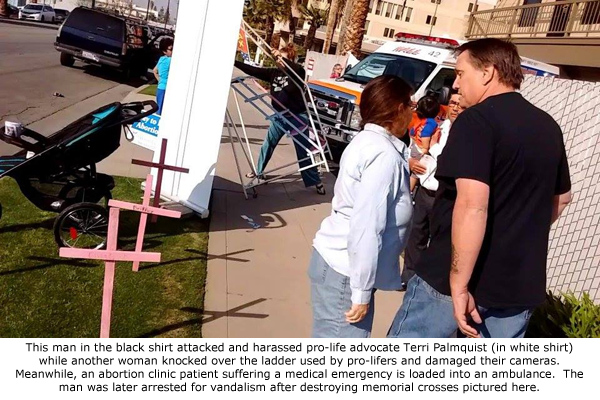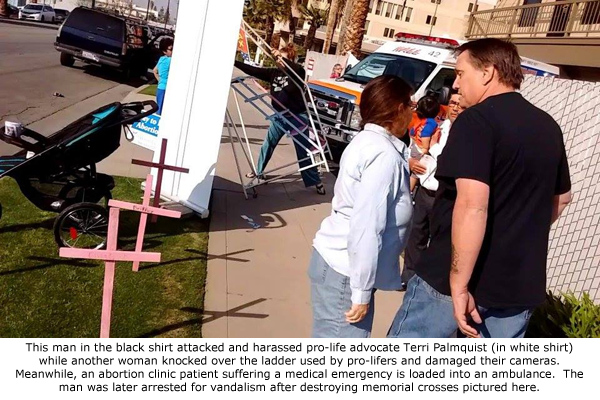 Photos taken by Tim and Terri Palmquist clearly show abortion facility employees deploying sheets between the ambulance and the pro-life supporters to prevent them from photographing the incident. No pro-life supporters ever went onto the abortion facility property.
Terri Palmquist also placed a 911 call for help when two unruly pro-abortion supporters attacked them, broke their cameras, and damaged a display of crosses placed legally on the public easement.
"This man came. He's –he just threw ice! He's throwing things at us, he's pushed me, he's broken our stuff. You need to send the police right now!" an obviously distraught Palmquist told the 911 dispatcher. She told the dispatcher that the man had been "hitting" them and she was concerned that we would drive off before police arrived.
As the situation spun out of control, even the security guard who was working for the abortion business that day also placed a call to 911 requesting assistance for the Palmquists when he observed the man attacking them.
"I'm the security guard at the Family Planning clinic on 25th and H and they just took a patient away in an ambulance here, and there's a gentleman here… he was messing with the protesters a he was beginning to assault people," he told the emergency dispatcher. "Yeah, he did some damage to some crosses. I don't think he hurt anybody yet, but thought he was getting ready to."
Two other citizens not involved in the fracas also placed 911 calls seeking help from the police when they saw the man assaulting the pro-lifer supporters.
A police report indicated that Theodore Allen Aurand was placed under arrest, cited, and released on two misdemeanor counts of battery and vandalism. Aurand also placed Tim Palmquist under citizen's arrest and he was also cited and released, but no evidence exists to support Aurand's claims, while there is ample evidence to support the charges against Aurand.
"We are seeing an increase of violence against pro-life activists around the nation. More and more, abortion supporters seem to think if they don't like someone's message, they are entitled to lash out with violence. Operation Rescue denounces violence at abortion facilities, whether it be outside on the street or inside in the abortion procedure rooms," said Newman.
Thanks to the Palmquists, Operation Rescue has documented ten medical emergencies at this FPA abortion facility just since August, 2012. This means that the Bakersfield FPA Women's Health abortion facility hospitalizes an abortion patient on average about once every four months – not counting the unknown number of abortion complications that only manifest after the patient leaves the abortion facility.
"We shouldn't let the mayhem on the street distract us from the fact that a woman was injured during an abortion so badly that this ill-equipped abortion business could not properly cope with her injuries," said Newman. "This abortion facility is too dangerous to operate and should be shut down immediately by the California Medical Board."
Read the police report.
Read our original report "Bedlam Breaks Out in Bakersfield" with information about the abortionist at this facility.