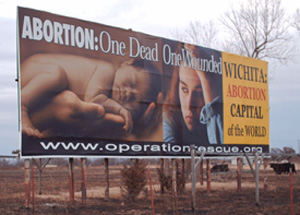 Wichita, KS – The Sedgwick County District Attorney's race would normally not make headlines outside of Wichita, but this election has national implications because of the connections to the infamous late-term abortionist George R. Tiller. It is one of the races to watch on November 4th.
This contest pits incumbent Democrat and pro-abort Nola Foulston against Republican Mark Schoenhofer, a pro-life Catholic. Foulston has waged a vicious campaign of personal attacks that lack documentation against Schoenhofer, which have been repeated without mercy by the local paper, the Wichita Eagle, one of Tiller's most ardent supporters.
Tiller's late-term abortion business is viewed nationally as the standard bearer of unfettered abortion on demand. He aborts women from every state in America and beyond. Efforts to persuade Foulston to enforce Kansas abortion laws and other statutes that Tiller is believed to have violated have been repeatedly rebuffed by her. This has placed women from around the nation at grave risk of suffering botched and/or illegal abortions.
Kansans for Truth in Politics, (K-TIP) a Political Action Committee chaired by Cheryl Sullenger, has worked overtime to expose Foulston and her ring of corruption that has shielded Tiller from being brought to justice.
Will Kansas abortion laws continue to be ignored by Foulston, or will a new District Attorney break the cycle of corruption and enforce the laws?
For more on this race, and Foulston's ties to Tiller, please visit the K-TIP's special web page focusing on the District Attorney's race.