Injury comes amid calls for repeal of abortion safety regs

Harrisburg, PA – An ambulance was dispatched to the Hillcrest Women's Medical Center abortion facility to care for an abortion patient that was suffering from a serious vaginal hemorrhage, according to emergency documents obtained by Operation Rescue.
The Emergency Computer Aided Dispatch (CAD) log from the June 17, 2016, incident described the patient as a 30-year-old female who was conscious and breathing, but was experiencing a dangerous hemorrhage, possibly the result of lacerations. The abortion facility appeared ill-equipped to handle the injury.
Medical units were dispatched with a determinant code that indicated a hot response was required, including lights and sirens.
This incident was caught on video by local pro-life activists. It shows a woman on a gurney who was taken out the back door of the facility to an awaiting ambulance. The back of the facility appeared to be in a shoddy state of repair and littered with construction debris.
The priority code was later downgraded by emergency responders. She was transported to the Harrisburg Medical Center for further treatment.
The abortionist on duty that day is said to have been Delhi Thweatt, who was involved in the death of abortion patient Kelly Morse in 1996. Remarkably, Thweatt's Pennsylvania and Maryland medical licenses are clear any mention of disciplinary action or malpractice claims.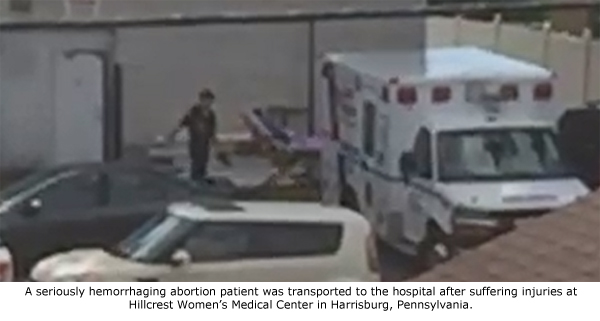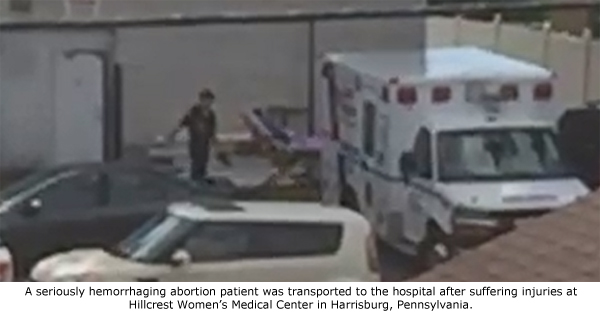 The serious abortion injury comes as pro-abortion state Senator Daylin Leach vowed to introduce legislation to repeal Pennsylvania abortion safety regulations passed in 2011 in the wake of the Kermit Gosnell murder case. Gosnell was a West Philadelphia abortionist who was convicted of three counts of First Degree Murder and hundreds of other crimes for severing the spinal cords of very late-term babies that were born alive at his squalid "House of Horrors" abortion facility and killing at least two patients.
The grand jury that indicted Gosnell and eight accomplices issued a scathing rebuke to regulators who failed to inspect abortion facilities and turned a blind eye to complaints, allowing conditions and practices at Gosnell's facility to deteriorate.
"If oversight agencies expect to prevent future Dr. Gosnells, they must find the fortitude to enact and enforce the necessary regulations. Rules must be more than words on paper," the grand jury report stated.
The Pennsylvania abortion safety law that is now threatened with repeal, was responsible for shutting down seven substandard abortion facilities. Only one has managed to reopen after conditions and practices were supposedly improved.
"It seems that since the Supreme Court decision in Hellerstedt, women have a right to abortion access, but not abortion safety," said Newman. "That places women in the insane position of being treated as second-class citizens who deserve no better than the likes of Kermit Gosnell. Those that truly care about women should join us in peacefully working to shut down the abortion clinics and offer pregnant women better alternatives than destroying the lives of their precious pre-born children."
View the CAD log