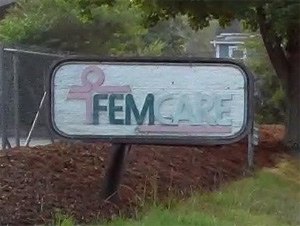 Asheville, NC –The North Carolina Department of Health and Human Services announced Wednesday that it has suspended the license of Femcare, an abortion clinic in Asheville, for two dozen serious health and safety violations discovered during a routine inspection on July 18 and 19th.
This action comes just two days after Gov. Pat McCrory signed a law that will require abortion clinics to meet the standards of an outpatient surgery center. Ironically, it was thought that Femcare would be the only North Carolina abortion clinic to meet safety standards under the new law, but it seems it that thinking was grossly in error. Femcare was last inspected 6½ years ago. The closure is not directly related to the new law.
This is the 42nd abortion clinic to close nationally in 2013. Clinic safety regulations have contributed to many of the closings. This number far eclipses the 24 abortion clinics that closed in 2012. Since 1991, over 70% of all abortion clinics in the U.S. have closed.
"This is a wake-up call for abortion supporters. What they thought was a clinic that could meet high standards ended up being one with practices so shoddy and conditions so dangerous that it is not fit to operate. Many abortion supporters fought to oppose the new law. In reality, they were fighting to keep abortion clinics dangerous," said Operation Rescue President Troy Newman. "This is the reality of abortion clinics today. We have yet to find one that complies with all laws and safety codes. The public health would be best served if they were all closed."
The following is the full press release from the DHHS announcing the Femcare suspension:
Raleigh, N.C. — In response to inquiries, the Department of Health and Human Services confirmed today that it has suspended the license of a medical clinic in Asheville, N.C. which specializes in abortions.
After a routine survey of FEMCARE, Inc., inspectors found egregious violations of existing rules that revealed an imminent threat to the health and safety of patients.
"Inspectors from Division of Health Service Regulation (DHSR) found the facility failed to comply with 23 separate rules," said Drexdal Pratt, Director of DHHS' Division of Health Service Regulation (DHSR). "We take rule violations very seriously and, when necessary, take firm action to prevent harm to patients and clients in the facilities that we license regulate and inspect."
In addition to other findings, the survey found the facility:
• Failed to maintain anesthesia (nitrous oxide gas) delivery systems in good working condition, with torn masks and tubing held together with tape. This could lead to patients not receiving the intended dosage and risk patients not being fully sedated during surgical procedures, leading to pain and physical harm.
• Failed to ensure emergency equipment had weekly checks to ensure the equipment was suitable for use in patient care and failed to ensure that emergency medicine wasn't expired.
• Failed to have a resuscitator available.
• Failed to sweep and mop the operating room floor and failed to properly clean operating room beds.
• Failed to have a director of nursing responsible and accountable for all nursing services.
• Failed to have an agreement/contract with an anesthetist or anesthesiologist.
• Failed to have an agreement/contract with a registered pharmacist to assure appropriate methods, procedures and controls for obtaining, dispensing, and administering drugs.
FEMCARE, Inc.'s last inspection was on January 16, 2007, a follow up inspection of a previous survey, which found the clinic in violation of personnel and quality assurance rules. The Division of Health Service Regulation is responsible for licensing, regulating and inspecting healthcare facilities, including hospitals, ambulatory surgical facilities, dialysis facilities, nursing homes and mental health facilities. The Acute Care Licensure Section has ten full time staff who survey hundreds of facilities across the state. The recently passed budget adds 10 full time employees to provide more frequent inspections of acute care facilities.