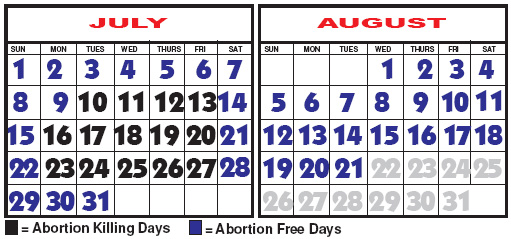 Wichita, Kansas, is the site of Women's Health Care Services, the most notorious abortion mill in the United States, where George R. Tiller aborts pre-born children from the earliest to the latest stages of pregnancy. Tiller currently faces 19 years in jail for committing illegal abortions.
With the recent temporary closing of Women's Health Care Services, the Nation's Abortion Capital, Wichita, Kansas, has been abortion-free for 38 out of the last 52 days. [From July 1 through August 21, 2007]
No babies have been killed by abortion in Wichita for a record 25 straight days to date. [Ending on August 21, 2007]
This number exceeds the previous record of eleven consecutive abortion-free days set in 1991 during OR's Summer of Mercy Rescues, making the summer of 2007 truly a Summer of God's Mercy.
Operation Rescue has been committed to prayer and action to end the killing in Wichita. Our tactics have changed since 1991, and now, instead of closing abortion clinics for a few hours, we have successfully focused on working to permanently close abortion clinics across the nation. Last year, we bought and closed the only other abortion mill in Wichita, Central Women's Services. All local hospitals insist that they do not allow abortions in their facilities.
Please join with Operation Rescue in praying for a permanent end to child-killing through abortion, not only in Wichita, but across the nation.