Press Conference and display: Thursday, Jan. 21, 1PM outside the White House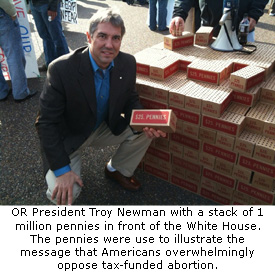 Washington, DC – A display of one million pennies will be featured at a press conference today outside the White House to illustrate that Americans oppose even one penny going to fund or subsidize abortions in the health care legislation currently under consideration by Congress.
"Polls show that the vast majority of the American people oppose tax funded abortions. Yet Obama, Pelosi, and Reid persist in disrespecting the opinion of their constituents and have continued on a course that has angered and energized the grassroots across this nation. Today we say unequivocally that we will not politically tolerate even one cent of our tax money being used to help kill innocent children through abortion. Politicians who make the mistake of ignoring the will of the people on this matter of critical importance must understand that we will ignore them at the ballot box and put them out of office on Election Day," said Operation Rescue President Troy Newman.
"The pennies were purchased with money donated by people of good will from all across America who believe that health care should be about compassion and healing not violence and suffering," said Rev. Patrick Mahoney, Director of the Christian Defense Coalition.
The protest and press conference will take place on Thursday, January 21st at 1 PM (ET) at 1600 Pennsylvania Ave. NW in front of the White House by Lafayette Park.
The event is being sponsored by Operation Rescue, the Christian Defense Coalition, and Generation Life.
Troy Newman is in Washington, D.C. to participate in a number of events marking the 37th memorial of Roe v. Wade. He will also be receiving an award from the American Life League in recognition of Operation Rescue's Pro-Life Blog. The award is scheduled to be presented by columnist and fellow blogger Jill Stanek.