By Liam Jackson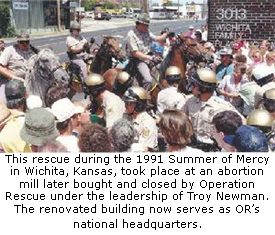 Six sizzling weeks in mid-1991 will forever be known in the pro-life movement as Operation Rescue's Summer of Mercy. Thousands of pro-life activists converged on Wichita, Kansas, with peaceful sit-ins at three local abortion mills, including the infamous and late-term abortion clinic of George Tiller. The event culminated with a standing-room-only crowd of tens of thousands of people that jammed into Cessna Stadium to hear speakers such as Dr. James Dobson, Pat Robertson and Jay Sekulow.
Operation Rescue was the largest civil disobedience movement in United States history with over 75,000 arrests nonviolent acts of blocking the doors of abortion clinics. Not one arrest for violent protest ever took place at an Operation Rescue event. The Summer of Mercy forged Operation Rescue into a formidable pro-life powerhouse characterized by the willingness to make self-sacrifices to save babies from abortions.
But what many people may not know is that the founder of Operation Rescue, Randall Terry, well known for his fiery railings and caustic personality, had left the organization in 1990, prior to the Summer of Mercy, to pursue personal endeavors. During the Summer of Mercy, Terry was present only as a pro-life spokesperson, and not in any official capacity with Operation Rescue, which was then under the leadership of Rev. Keith Tucci.
After the Summer of Mercy, Rev. Tucci moved on. Operation Rescue lacked focused national leadership and the movement began to wane. In 1994, pro-life sit-ins, once local misdemeanors, became Federal felonies under the Clinton Administration with the passage of the Freedom of Access to Clinic Entrances Act, otherwise known as FACE. Hundreds of Operation Rescue affiliates across the United States struggled to realign their mission. Most closed altogether.
The outspoken and habitually offensive Randall Terry found a temporary soap box on the radio, but his erratic behavior and evolving ideology relegated him to smaller and smaller audiences. Soon, he was off the air.
During his short tenure with Operation Rescue, Terry, along with Joe Scheidler and other activists, were sued by the National Organization for Women. Terry was transitioning out of the pro-life movement and wanted no part of fighting the case, known as NOW vs. Scheidler. He settled out of the case by agreeing to never again to engage in pro-life activism at abortion clinics. Everyone thought Randall Terry had permanently retired.
Supposing that his participation in Operation Rescue had acquired him fame, Randall Terry, tried to parlay that notoriety into a Congressional seat. In 1998, he ran for Congress. He broke the record for the highest negative approval rating for anyone polled by the Zogby Polling Company. He lost in the primary after raising more money and getting the fewest votes than any candidate ever.
Then sadly, against the counsel of nearly every former Operation Rescue leader and spiritual advisor in his life, Randall divorced his wife, abandoned his children, married his intern, and moved to Nashville to begin a country music career.
While Randall Terry's personal life was imploding, the successive leaders of Operation Rescue vainly grasped for projects that could keep them relevant. In 1997, Rev. Flip Benham changed the name of Operation Rescue National to Operation Save America in order to better fit his shifting agenda, which was expanded to include anti-homosexual, anti-Islam, and anti-pornography protests.
Nationwide the only organization remaining true to the original work of Operation Rescue was Operation Rescue West, led by Jeff White. White's second in charge was Troy Newman, a young energetic evangelical who successfully led the San Diego Operation Rescue group. ORW remained focused on saving babies that were scheduled to die and working to end abortion in America.
Newman's band of pro-lifers continued to find new ways to challenge the abortion industry's stranglehold on politics and culture. Through innovative strategies, Newman was responsible for closing over two dozen abortion clinics in the Southern California area, but it was not without cost. In 1997, Newman was sued by Janet Reno's Department of Justice for FACE. Newman was also sued by Planned Parenthood and other abortionists for his efforts to use legal means to focus the media's attention on the illegal acts of the abortion industry. The lawsuits only solidified Newman's resolve to use the legal system to close abortion clinics.
In 1999, Newman took the reins of Operation Rescue West and consolidated the remnants of the former rescue organizations into a new Operation Rescue. He experimented with fresh tactics that would confront the abortion industry and expose their abuses. The fresh ideas coupled with wisdom gained from years of street experience breathed new life into Operation Rescue. Newman was successful at accomplishing his vision of putting the abortion industry on the defensive. As his successes grew, Operation Rescue once again became feared by the abortion lobby.
Newman sensed a new era was dawning. With the harsh penalties under FACE, pro-lifers were less willing to go to jail, and rightfully so. It was ridiculous for pro-lifers to go to jail when it was the abortionists who belonged behind bars. Newman found a way to make that paradigm shift happen.
Over the years, it became obvious that there were few, if any abortion clinics that did not break the law. Newman knew that if he could document the abuses, expose them to the public, and report them to the proper authorities, it would be the abortionists that would be soon sitting behind bars. Newman was among the first to recognize the power of electronic media to reach millions of people with information that before was not possible. He joined electronic communications, increased access to the news media, and grass roots activism to hold authorities accountable for enforcing the laws, close abortion clinics, and put scofflaw abortionists behind bars.


By engaging in sit-ins back in the early 1990s, Operation Rescue discovered that when abortion clinic closed, babies were saved. However, with Newman's new tactics, instead of being closed for a few hours, abortion clinics were permanently closing and women who otherwise would have opted for the "easy" trip to the local abortion were instead finding other ways to deal with their challenges that did not include killing their babies.
Newman's new strategies faced almost immediate success. As he and his experienced staff continued to innovate and implement ground-breaking new strategies, former abortion empires began to fall.
One of the most dramatic of victories came when the infamous California abortion chain, Clinica Medica Para La Mujer De Hoy, completely shut down its 10 abortion mills and its owner, illegal and untrained abortionist Bertha Bugarin was sentences to nearly 7 years in prison. The chain had a history of employing only the most unskilled and inept abortionists. One by one, complaints were filed against them as pro-lifers discovered shockingly botched abortions, the unlicensed practices of medicine, and other abuses. Ultimately, over a dozen Clinica Medica abortionists and their accomplices were convicted of crimes and/or had their medical licenses revoked.
In 2002, Newman moved his offices to Wichita, Kansas, where George Tiller had shrugged off the Summer of Mercy and tripled the size of his late-term abortion facility. Newman believed strongly that if he could employ the successful new tactics developed on the streets of Southern California, he could legally close Tiller's horrendous late-term abortion business as well.
Over the next seven years, Operation Rescue documented and exposed like never before a series of botched abortions at Tiller's clinic that landed about a dozen women in the hospital, including one tragic abortion death. The work caught the eye of the Attorney General's office and the State Legislature, which joined in Operation Rescue's demand that Tiller be held accountable to the law.
Operation Rescue helped seat two grand juries to investigate Tiller, and Newman was called to testify at one of them. His group filed numerous complaints against Tiller's medical license and discovered an illegal arrangement between Tiller and his associate, Ann Kristin Neuhaus, wherein they worked together to circumvent a Kansas ban on post-viability abortions. Tiller was later charged with 19 counts of violating the second unaffiliated referral provision, the same crimes discovered and reported by Operation Rescue.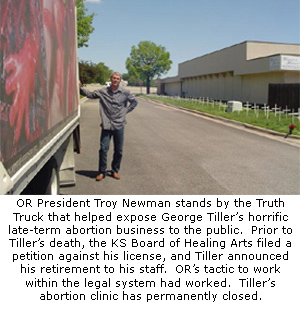 Newman's work helped reduce Tiller's lucrative late-term abortion numbers 54% from what they were when he arrived. Newman's work was highlighted in the Rolling Stone, New York Times, The O'Reilly Factor, LA Times, and many international media outlets.
While it may seem that Tiller escaped legal accountability for his actions with a widely-publicized acquittal of criminal charges, nothing could be further from the truth. On the day of Tiller acquittal, the Kansas Board of Healing Arts released a press statement that revealed the fact that an 11-count petition had been filed against Tiller's license by the Board. That petition was based on a complaint filed by Operation Rescue. It was the final action that needed to be taken by the Board before discipline was to be administered, which could have included revocation of his medical license. There was no question that Tiller was going to be disciplined.
Perhaps to avoid the humiliation of license revocation, after the criminal trial Tiller announced to his staff that he would be retiring. Already his political action committee that had helped politically shield Tiller for years was disbanded and several of his long-time clinic employees had taken other jobs.
But tragically, with Board discipline just a few weeks away, Tiller was shot to death by a crazed anti-abortion crusader. In that moment, Tiller went from being a villain to martyr in the eyes of the public.
Unfortunately, Randall Terry seized the opportunity to return from pro-life retirement and travelled to Wichita in support of Tiller's killer where he could take advantage of the national media that had gathered for the murder trial. Terry went to great lengths to appear on camera discussing the supposed merits of Scott Roeder's "justifiable homicide" defense, while Newman intentionally remained out of the spotlight, having been among the first to denounce Tiller's murder. Unfortunately, many confused Randall Terry's impertinent remarks as Operation Rescue's official statements, when nothing could have been less true.
Concurrent with Mr. Terry's "comeback," he filed a lawsuit against Operation Rescue's president, Troy Newman, alleging that Mr. Newman had "stolen" the name Operation Rescue. Newman had lawfully been granted the trademark for the name "Operation Rescue" over fifteen years after Terry had abandoned the group he helped to found. While Terry pursued other interests, Newman had diligently worked to rebuild Operation Rescue into a vibrant and relevant pro-life organization with real accomplishments to its credit. Once Operation Rescue regained some measure national acclaim and success, Terry wanted the name of the group for his own.
The lawsuit is still pending. In the meantime, Operation Rescue's Board and other founding members have been forced to make official public statements distancing Newman's Operation Rescue from Terry and his increasingly bizarre rhetoric and conduct.
Today, Operation Rescue's national headquarters is located in the abortion-free city of Wichita, Kansas – the former abortion capital of the world – in a former abortion clinic that Newman bought and closed. The clinic was completely renovated to serve as the launching platform for Operation Rescue's efforts to close abortion clinics nationwide. Newman has since propelled the organization to international prominence. Recently, the National Organization for Women, the Fund for the Feminist Majority, Planned Parenthood, the Nation Abortion Federation and the Center for Reproductive Rights all referred to Newman's Operation Rescue organization as one of the biggest threats to abortion rights in America.
The abortion industry is right to fear the work of Operation Rescue. Since 1991, the number of abortion clinics in the United States as dwindled from 2,173 to under 700 today. Over two thirds of all the abortion clinics have closed and polls show that public opinion is swaying in favor of the pro-life position. The majority of the clinic closures are due to the type of legal and public scrutiny brought by Operation Rescue, whose tactics are now being adopted by other organizations.
Some of Operation Rescue's projects throughout the country have been making headlines in recent weeks.
Newman's work blew the lid off the secret illegal "telemed" abortion pill Internet distribution scheme in Iowa. The entire state has been rocked by the undercover work of Operation Rescue.
When Laura Hope Smith died in 2007 from a botched abortion in Massachusetts, it was Operation Rescue that helped her file the medical board complaint and gain the attention of the local district attorney and media. Those actions resulted in the surrender of Rapin Osathanondh's medical license and his conviction and jailing on manslaughter charges.
Operation Rescue has also worked to expose and call for criminal charges against an illegal late-term abortion ring operated by Stephen Chase Brigham that spanned two states. Four abortionists' medical licenses were suspended as a result of the public spotlight that Operation Rescue helped shine on this horrific illegal abortion scheme.
Operation Rescue recently garnered attention when it raised the reward for its Abortion Whistleblower Program to $25,000 for information leading to the arrest and conviction of abortionists who are breaking the law. Rapin Osathanondh's recent manslaughter conviction was the first Whistleblower success, but it will not be the last. Tips have flooded Operation Rescue's offices and several other cases remain in the pipelines insuring that other abortionists will soon join Osathanondh behind bars.
Many pro-life organizations and individuals have sought assistance and training from Operation Rescue so they can also make their own communities abortion free.
"Newman has done more to rescue babies than all the previous OR leaders combined," said Operation Rescue co-founder Rev. Patrick J. Mahoney, who heads the Christian Defense Coalition in Washington, D.C. "We are all really proud of what he has accomplished."
Newman has done more than rescue Operation Rescue from irrelevance, bad leadership and near-oblivion. He is rescuing pre-born babies from death exposing the abortion cartel's unfruitful works of darkness in obedience to Biblical mandates. Through that obedience, abortion clinics are closing and abortionists are being brought to justice, speeding the day when abortion will be abolished in America.