Albuquerque, NM – The Bernalillo County Commissioners are meeting this evening to consider a proposal that would ban picketing activity in the unincorporated areas near Albuquerque in response to a community awareness outreach conducted recently by pro-life activists with The Survivors of the Abortion Holocaust.
"Our recent Survivors Camp and Town Hall Meetings have clearly woken up Albuquerque and exposed its atrocities. The city is at a turning point and the entire nation is watching and waiting for the final outcome," said Tara Shaver of Project Defending Life, which sponsored the Survivor events in Albuquerque earlier in the month. "Will there be some form of justice for the innocent in Albuquerque or not?"
Shaver is referring to a proposed new city ordinance that would ban abortion after 20 weeks in the city that is home to the largest late-term abortion clinic in the nation. Pro-life groups submitted nearly 27,000 signatures – more than twice the number of signatures needed – to place the late-term abortion ban on a citywide ballot.
While the signature verification process is still ongoing, the last official count as of Friday showed that only 837 more signatures needed to be verified for the proposed ordinance to be placed on the ballot in November with over 10,000 signatures left to process.
The ordinance proposal has brought the abortion debate to the forefront in Albuquerque, multiplying the effect of the Survivor protests.
Some have deemed the outreaches aimed at raising awareness of abortion as "inappropriate." As a result, the Bernalillo County Commissioners are entertaining the idea of banning street protests in residential areas of the county. Such protests are already banned within the Albuquerque city limits.
"It's no surprise that as we move forward we are met with resistance by those who oppose life. One by one across this nation our constitutional freedoms are being stripped away and Albuquerque is no different" said Shaver.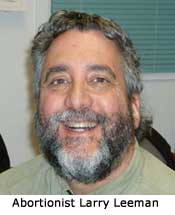 At issue for the Commissioners was an outreach in the unincorporated neighborhood of Los Ranchos de Albuquerque where The Survivors revealed that one of the residents, Larry Leeman, is an abortionist at the UNM Center for Reproductive Health abortion clinic in Albuquerque. Leeman also trains new abortionists. However, Leeman also delivers babies at local birthing center and at UNM Medical Center. Many residents were unaware of Leeman's double life as an abortionist.
Since Leeman conducts abortions at a hospital that received tax-funding, it was considered to be very appropriate to help the people understand what their tax dollars are doing.
However, the Bernalillo County Commissioners want to shut down such outreaches and silence those who speak out against abortion or call abortionists to the attention of the public.
"The First Amendment was meant to guarantee that even unpopular or uncomfortable speech is protected in the free marketplace of ideas," said Cheryl Sullenger, Senior Policy Advisor for Operation Rescue. "The Constitution doesn't guarantee the right of people to be free from opinions with which they do not agree. We must fight to protect our rights to free speech, or else we will be hindered in our ability to change hearts and minds about abortion, and that will result in the continued loss of innocent life. In a very real way, the County Commissioner's decision is a matter of life or death."
Project Defending Life in conjunction with its legal counsel issued the following statement on a potential picketing ban to be adopted by Bernalillo County:
The contemplated action of the County Board of Commissioners to adopt a picketing ban presents a grave concern for the civil liberties of County residents. The Supreme Court of the United States has a long-standing tradition of protecting debate in public streets and sidewalks. A ban of this nature will bar the free-flow of expressive and political ideas that is a hallmark of our Nation's devotion to democracy.
Because women from every state travel to Albuquerque for late-term abortions, this proposed picketing ban is a national issue affecting families in every state.
Operation Rescue is joining with Project Defending Life in asking for your help today.
Please call and email Bernalillo County Commissioners TODAY and ask them not to cower to the pro-abortion lobby that wants to provide anonymity to those brutally murdering children. Remind them that by passing this ordinance they will be infringing upon our rights as American citizens by restricting residential picketing in the unincorporated areas of Bernalillo County.
Ask the following County Commissioners to vote NO on this proposed picketing ban ordinance today:
Debbie O'Malley
(505) 468-7027
District1@bernco.gov

Maggie Hart Stebbins
(505) 468-7108
District3@bernco.gov

Art De La Cruz
(505) 468-7448
dherrera@bernco.gov

Lonnie C. Talbert
(505) 468-7010
District4@bernco.gov

Wayne A. Johnson
(505) 468-7212
kbrown@bernco.gov
If you are in the Albuquerque area, please attend their meeting, sign up for public comment and be a voice for those of us who still believe in the First Amendment right to free speech.
Board of County Commissioners Administrative Meeting
When: Tuesday, August 27
Time: 5:00 PM
Location: One Civic Plaza NW
For additional information or questions contact Tara Shaver: 505-319-7825