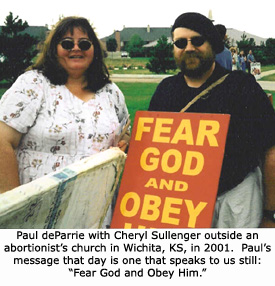 Portland, OR — Christian warrior Paul deParrie, 56, passed on to be with the Lord on Saturday, May 20, 2006, after bravely defending the lives of the pre-born in the public forum. He died from a heart attack after years of heart problems.
Paul was an uncompromising soul who was fully dedicated to his faith in Jesus Christ and his ministry of protecting the pre-born. One could hardly find a stronger or more articulate advocate. Paul was the editor of Life Advocate Magazine, a no-nonsense periodical that urged Christians to take meaningful action to protect the innocent.
Stopping abortion was not just an issue or a job to Paul. The thought of even one of God's precious babies perishing from a brutal abortion hurt Paul deeply. He believed that stopping the slaughter of innocent children was his God-given duty and the duty of all Christians. He was an example for the rest of us of a true Christian soldier — ardent in faith, uncompromising in dedication, and hard at work.
He will be missed. He cannot be replaced.
Please consider sending a financial gift to Paul's wife, Bonnie, who stood strongly with Paul during good times and bad, and without whose loving support Paul would not have been able to accomplish so much for the cause of Christ.
Paul deParrie funeral arrangements:
Tuesday, May 23, 6:30PM
Trinity Fellowship
2700 SE 67th Ave.
Portland, OR 97206
(503) 231-0981
For assistance to Bonnie deParrie, send your tax deductible contribution to:
New Covenant Ministries International
PO Box 13109
Salem, Oregon 97309
Mark the memo line: "For Bonnie deParrie"
100% of the proceeds will be forwarded to Bonnie deParrie