UPDATE! The KS Supreme Court has posted audio files of the entire oral arguments online. Click to listen: PART ONE; PART TWO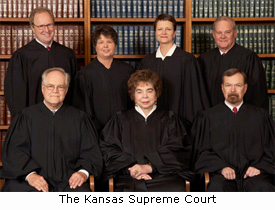 Topeka, KS – All seven Kansas Supreme Court Justices engaged attorneys in lively questioning during oral arguments in a case brought by late-term abortionist George R. Tiller, who is attempting to block a grand jury's subpoenas for abortion records. The central question posed by the Court was whether privacy concerns of patients override criminal investigations.
"If this case involved any other subject than abortion, that question would be considered ludicrous," said Operation Rescue President Troy Newman. Newman and OR's policy advisor Cheryl Sullenger were present for the hearing. "Since when do criminals get to hide behind the skirts of their victims?"
Eleven attorneys appeared in support of Tiller's motion to quash the subpoenas, of which three were allowed to make arguments before the court. Only two attorneys appeared on behalf of the grand jury and the judges involved in the grand jury process.
The most disturbing arguments came from a representative of Attorney General Stephen Six's office. He argued for restrictions on document subpoenas that, if implemented, would prevent any investigator from ever obtaining names from a subpoenaed document. He urged that witnesses be permanently muzzled by having them sworn to the same confidentiality oath as the grand jury.
"The A.G.'s office was asking for more security on abortion records than currently exists in nuclear power plants. It was absurd," said Operation Rescue President Troy Newman. "General Six showed his true colors. He is nothing more than another abortion crony will cover for abortionists rather than discharge his duty to properly enforce the law."
Tiller's lead attorney, Lee Thompson, argued that he believed the grand jury system was being used to harass his client, even though, as one justice pointed out, the first Tiller grand jury investigated the wrongful death of Christin Gilbert, while the current grand jury is investigating violations of the Kansas late-term abortion ban over the past five years, two completely different allegations.
It is unknown when the Supreme Court will issue their ruling, but it needs to be soon, since the grand jury term will expire on July 8 with no possibility of further extension.
"If the Court delays this decision until it becomes impossible for the grand jury to access evidence, that will be the ultimate in obstruction of justice. In that case, you can bet there will be another grand jury, and another," said Newman. "This is not harassment. It is an attempt to procure justice."