Tiller faces possible criminal charges in abortion death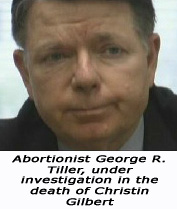 Wichita, KS — Clearing the final hurdle, a citizen petition was approved and documents were filed by a judge this week ordering a grand jury to convene to investigate abortionist George R. Tiller in the third-trimester death of 19-year old Christin Gilbert last year.
While the actual court order remains under seal, Operation Rescue was told by an 18th District Court information officer that the grand jury was ordered to convene. KWCH News is reporting that the grand jury will meet for the first time on May 22, and could take up to three months to investigate Tiller for possible violations of Kansas law that include second-degree murder, failure to report abuse, illegal late-term abortion, and mistreatment of a dependent adult. Gilbert had Down syndrome.
Citizens initiated the process to convene a grand jury after suspicions arose that the Kansas State Board of Healing Arts was engaged in what Operation Rescue called a "white-wash" to protect Tiller, who is a large campaign contributor to pro-abortion candidates, including Gov. Kathleen Sebelius, who intervened in the investigation. The KSBHA is appointed by the governor.
"We are gratified that they system appears to be working," said Operation Rescue spokesperson Cheryl Sullenger, who witnessed emergency workers rushing Gilbert into the emergency room where she later died. Sullenger also filed the original complaint with the KSBHA that was dismissed in November.
"Every step of the way, we have been concerned about political corruption derailing this effort, as we believe it may have with the KSBHA's so-called investigation, and that is still a big concern for us today," Sullenger said. "Tiller is a wealthy man who has bought influence for himself in this community and this state. We pray that the court avoids all appearances of impropriety and appoints a judge, prosecutor, and jurors who have no association with Tiller politically, professionally, or socially. Only then will the public be able to trust their findings."