UPDATE 12/11/2015: Story includes a color photo of Kissel
By Cheryl Sullenger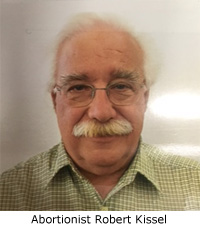 South Bend, IN — An abortionist who applied for a medical license in Indiana earlier this year has had his application closed because he does not meet the qualifications for licensure in Indiana.
Kissel's Indiana application was rejected because he did not achieve a high enough FLEX score on an examination that needed to be passed in order to qualify for licensure in the United States. The FLEX exam has since been replaced by the USMLE three-step exam.
"According to your Flex exam scores report, you did not obtain an average weighted score of 75. Please consider your application of licensure closed as you do not meet our examination requirements," stated a letter to Kissel from the Professional Licensing Agency dated December 1, 2015.
Ronald Lee Kissel is currently licensed in Illinois and Michigan. He was last known to be employed as an abortionist at Advantage Health Care Ltd. in Wood Dale, Illinois. He was sued in 1999 by a health care group that resulted in a monetary judgment against him.
Kissel applied for an Indiana medical license in April, 2015, listing his current address in New Buffalo, Michigan. However, Operation Rescue has found several internet listings indicating that Kissel intended to practice in South Bend, Indiana.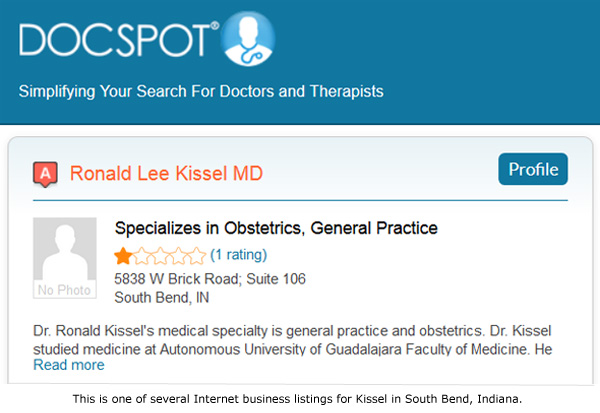 "We have to wonder whether Kissel may have been attempting to conduct abortions in South Bend. The only abortion facility there, Women's Pavillion, was in deep legal trouble at the time when Kissel filed for an Indiana license," said Newman. "Whether or not that was the case, the people of Indiana have been spared having to deal with the increased health risks that accompany out-of-state abortionists, all thanks to Indiana's high licensing standards."
Women's Pavilion, a South Bend abortion business owned and operated by troubled abortionist Ulrich Klopfer, surrendered his abortion facility license on November 6, 2015, after Klopfer dropped his appeal of a revocation order issued by the Indiana Department of Health due to numerous health and safety violations discovered there. Klopfer still faces the possible revocation of his medical license due to two criminal cases involving mandatory reporting violation, including failing to report child sex abuse.
"We are just grateful that Kissel will not be conducting abortions in South Bend or anywhere else in Indiana," said Newman.
View Kissel's Indiana license application and letter informing him he is unqualified to practice in that state.