"Keep it Closed" campaign continues to bear fruit
Bellevue, NE – Amid pro-abortion hysteria and media over-hype, Operation Rescue, Nebraskans United for Life, and Rescue the Heartland conducted two days of peaceful activities in the Omaha Metro area, which successfully drew attention to accusations of illegal activities at LeRoy Carhart's Bellevue abortion clinic that have been alleged by four of his former employees.
The event was bolstered by an investigative report printed in the Omaha World-Herald on Friday morning that broke the story that the former abortion workers had voluntarily come forward to blow the whistle on Carhart's illegal practices, which they said included allowing unlicensed staff to perform medical duties, and the existence of filthy conditions, such as dried blood on surgical instruments laid out to be used during abortions.
Those women also contacted Operation Rescue and Rescue the Heartland and are working with the groups to get their information to the appropriate authorities. (Read previous story.)
Press conference and a "staggering" list of allegations
The three pro-life groups held a press conference on Friday afternoon and released a list of allegations that one news station called "staggering," detailing the allegations and the applicable Nebraska Criminal Statutes and Regulations. Because media attendance at the press conference exceeded expectations, the conference had to be moved to a larger space. ("Must see" news report and video.)
Representatives from Operation Rescue and Rescue the Heartland then met with the Bellevue Police Department, which was very cooperative. At Operation Rescue's request, the police agreed to keep pro-abortion counter-protesters separated from the pro-life groups, because of security concerns on the part of the pro-lifers. Operation Rescue staff members have received dozens of death threats, a concern that was raised with the police.
A Vision for Victory
Friday evening about 100 supporters attended a rally at St. Cecelia's Cathedral where Opertion Rescue President Troy Newman encouraged the Omaha area pro-life community to press on with their already fruitful efforts to save the lives of innocent children from abortion and to make their community abortion free through the use of peaceful, legal means. Newman imparted a well-received vision for victory to the group.
Much anticipated "protest"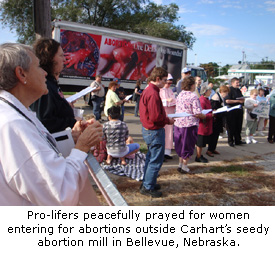 Saturday morning two Truth Trucks joined about fifty pro-lifers outside Carhart's dilapidated abortion clinic in Bellevue where pro-abortion counter-protesters had been bussed in by national abortion groups. While pro-lifers prayed and sang hymns, abortion supporters chanted "Welcome, welcome. This clinic stays open!" and cheered each time a women entered the clinic to kill her pre-born child.
"It's pretty sick when someone cheers the fact that an innocent child is about to die," said Operation Rescue President Troy Newman. "These people desperately need Jesus to help them rediscover their moral compasses."
The outreach was never promoted as a large protest by the participating pro-life groups. It was instead an outreach to offer abortion-bound women help, compassion, and practical help, and to be a witness to the community to the devastating effects of abortion.
"Misguided abortion folks seemed to process our peaceful intentions through their hysteria filter and the result was overreaction and amped up rhetoric that completely missed the mark of what was really going on. Even at that, their predicted hundreds of counter-protesters never materialized, while we drew over twice as many people as we predicted on our side," said Newman.
"The news about the clinic workers blowing the whistle on Carhart's dangerous and illegal abortion business really took the wind out of their sails."
A baby saved and privacy violated
Carhart did not inform his patients that there would be protesters at his clinic. One woman who had scheduled an abortion was frightened by the pro-abortion protesters who repeatedly screamed and called out her name. A pro-life sidewalk counselor was able to ask the woman and her friend to pull into the crisis pregnancy center across the street from Carhart's clinic, which they did.
The woman received support and counseling from the staff of the pro-life help center and made the decision not to abort her baby. She signed a written release authorizing the distribution of a sonographic image of her pre-born baby to protesters and indicated she was interested in filing a complaint against Carhart's clinic for violating her right to privacy by making her name available to pro-abortion protesters and others.
"So much for a woman's right to privacy," said Newman. "This woman felt violated by the lack of consideration for her privacy on the part of the abortion clinic supporters. In the end, they drove her to us where we were able to get her the help and support she needed to make the decision to keep her child."
Blind to the truth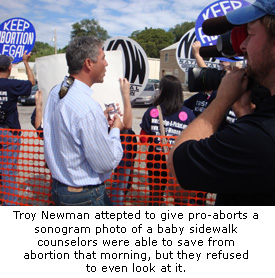 Newman attempted to distribute the sonogram images of the saved baby to abortion supporters, but each time his words seemed to strike a nerve, the pro-aborts began to chant.
"They couldn't even look at the picture of that precious baby. They simply are blind to the truth. The fact that they can stand in front of that dump of an abortion clinic, which has been accused of committing illegal and unsafe acts that have endangered the lives and safety of women, shows that they are not willing to face reality. The look of the place alone should have scared them away," said Newman.
"It shows that this blind support for Carhart amongst radical abortion groups is not about what is best for women. It is about perpetuating abortion at any cost, even if it means breaking the law and hurting the women whose so-called rights they pretend to support. If they really cared about women, they would be joining us in calling for the closure of Carhart's shoddy abortion business."
Closed-door training session
After a morning of peaceful outreach at the abortion clinic, Operation Rescue met with local activists at an undisclosed location for a closed-door training session on how to employ the legal tools that are available to close abortion clinics. The session was well attended and received with energy and enthusiasm.
Improper detention
During the training session, police wrongly detained two of Operation Rescue's Truth Truck drivers in the parking lot of a public school that was closed for the day, where they had parked due to lack of street parking. The pair was threatened with arrest for trespassing on the public property. Several people watching a local air show were also parked in the lot, but they were not detained or threatened with arrest. However, cooler heads soon prevailed, and the drivers were released without being charged and without further incident.
Success exceeded expectations
"This event was all about two things. First we wanted to expose the criminal and unsafe conditions at Carhart's abortion clinic, which was done successful beyond expectations," said Newman. "Secondly, we wanted to identify and train a core group of leaders who could continue to work within the legal system in Nebraska to bring Carhart to justice and see his clinic closed through peaceful, legal means. That goal was accomplished. The pro-life community in Nebraska are amazingly dedicated people who we are proud to work with.
"Then to have a baby saved at our morning outreach in spite of ranting pro-abortions, police SWAT teams, cordoned off streets, and every other impediment, we can confidently say that this was an amazing event that exceeded expectations. God was with us at every turn. We look forward to going back at some future time to continue our efforts."
Photo gallery and event videos coming soon!