By Cheryl Sullenger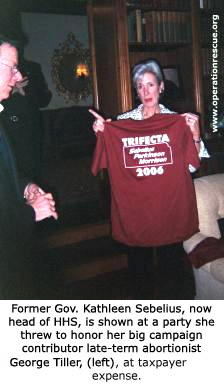 Washington, DC — Last week the U.S. Office of Special Counsel (OSC) found that Health and Human Services Secretary Kathleen Sebelius broke the law – specifically the Hatch Act – when making political remarks supporting local Democratic candidates at an official, taxpayer funded event last February in Charlotte, North Carolina.
The Hatch Act prevents the use of Federal funding for the purpose of politicking. Sebelius simply reclassified the event as "political" after she was caught red-handed in a serious abuse-of-power violation. The Democratic National Convention then reimbursed the expenses of the event to give Sebelius cover.
The case was referred by the OSC to the White House for possible disciplinary action. The usual penalty for such an infraction would be removal from office.
Instead, yesterday White House Press Secretary Jay Carney indicated that there would be no serious punishment for Sebelius. He stated that "action has been taken by the Secretary and department to remedy what was the result of an inadvertent error based on extemporaneous remarks."
This sounds all too familiar to the people of Kansas who have long watched Sebelius abuse her political power, then weasel out of the consequences by concocting excuses for her bad behavior. This can only work if the mainstream news media are willing to perpetrate her fraud, which was the case in Kansas and now in Washington, DC.
In 2007, as Governor of Kansas, Sebelius hosted a party at the official Governor's Mansion at tax-payer expense for late-term abortionist George Tiller and his entire abortion clinic staff of about 25 people. Tiller donated heavily to Sebelius' political campaigns and to the campaigns of those hand-picked by her. At the time of the tax-funded soiree, Tiller was under criminal investigation by the Attorney General's office in a high-profile case that generated much public controversy. Two months later, Tiller was charged with 19 criminal counts of violating the state's post-viability abortion law.
Operation Rescue received photos of the party then obtained receipts through an open records request that proved tax dollars paid for the event. One photo was particularly revealing. It showed Sebelius holding up a campaign T-shirt emblazoned with her name and those of two other Democratic candidates while pointing in apparent acknowledgement to Tiller. Caught red-handed, Sebelius at first fumbled to respond to the scandal changing her story several times.
Eventually, she told the press that she had donated a dinner as a fundraiser to the Greater Kansas City Women's Political Caucus Auction Reception, which was purchased by Tiller during a silent auction. However, a check of the GKCWPC expenditure reports showed that Tiller never purchased anything from them. Sebelius later said her office had overlooked billing the GKCWPC and that a check had been submitted in May, 2008, by the pro-abortion group reimbursing the expenses after the story about the event broke.
However, there was never any documentation to substantiate the claims that the Tiller dinner expenses had been reimbursed. In fact, GKCWPC expenditure reports showed that no check was ever written.
Despite the overwhelming evidence that Sebelius had lied to cover up for an illegal meeting at tax-payer expense, the Kansas press gave Sebelius a pass.
But that wasn't the only time Sebelius had to rewrite history to excuse an ethical lapse.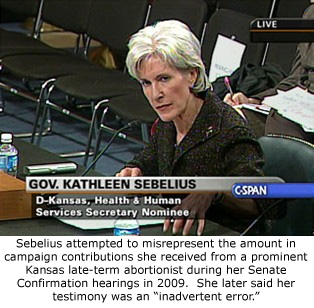 During her Senate Confirmation hearings, Sebelius was asked in writing to list the amount Tiller had given to her political campaigns. Sebelius stated that she received $12,450 from Tiller during her run for Insurance Commissioner. However, Operation Rescue broke the news that contribution and expenditure reports on file with the Kansas Governmental Ethics Commission show the figure to be closer to $38,450 – a discrepancy of $26,000. Records also show that some of that money was used for her 2002 campaign for governor.
Sebelius, again caught misstating the facts, quickly jumped into damage-control mode and filed a correction with the Senate Finance Committee, saying, "I regret that there was an inadvertent omission in my previous response to this question. The oversight led to an incomplete listing of certain PAC contributions as well as contributions from Dr. Tiller's business."
The false figures submitted under oath were downplayed in news reports. Sebelius was eventually confirmed as HHS Secretary, where her dubious ethical behavior has continued.
And now she is being given a pass yet again, this time the Washington press and by the Obama White House that is misusing its authority to overlook a crime that usually results in dismissal.
One has to wonder how many do-overs corrupt public officials get these days.
Sebelius was caught breaking the law. Redefining the event is disingenuous and should not absolve her of her responsibility for the violation. There is overwhelming documentation that Sebelius has engaged in a pattern of ethical violations over the years. Every time she has been excused, her next violation was worse.
If laws are to have meaning, they must be enforced equally to all people. For Obama to do less is to abuse the power with which the people have entrusted him, and that makes him just as unfit as his HHS Secretary for public office.