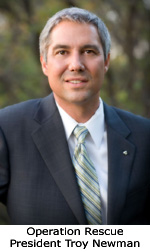 Albuquerque, NM — The Religious Coalition for Reproductive Choice, a group abortion promoters consisting of renegade members of Christian denominations or members of non-christian religious traditions, has viciously and falsely attacked Operation Rescue in a letter that appeared in the Albuquerque Journal on Friday, July 9, 2010. While we are used to pro-abortion fanatics misrepresenting the work of Operation Rescue, the RCRC letter was not only misleading, but presented gross untruths about OR. The record had to be set straight. Below is Troy Newman's response as it appeared in the Thursday, July 15, 2010, edition of the Albuquerque Journal.
_____________
Thursday, July 15, 2010
Peaceful Activism Is Operation Rescue Way
By Troy Newman
President, Operation Rescue
Last Friday, an opinion column by Joan Sanford of the Religious Coalition for Reproductive Choice was published in the Albuquerque Journal alleging that Operation Rescue's involvement in Albuquerque affairs — concerning the late-term abortions of Curtis Boyd—will bring violence to the region.
Let it be said that Operation Rescue has a lengthy record of peaceful pro-life activism.
Operation Rescue's satellite office in Albuquerque will be bent on fighting against abortion using strictly peaceful methods.
Sanford perpetuates allegations — which are fickle at best — that Operation Rescue was somehow involved in the murder of George Tiller in 2009 based on the coincidence that senior policy adviser for Operation Rescue Cheryl Sullenger's phone number was found in Scott Roeder's car after his arrest.
The mere presence of the phone number in no way constitutes an affiliation with Roeder or an endorsement of his actions.
The phone number that was found was readily accessible on Operation Rescue's website and was used as an informational line, oftentimes for people to find out where prayer vigils were being held.
In fact, Operation Rescue was the first group to issue a statement after the murder of Tiller. In the statement, Operation Rescue denounced the actions of Roeder as "cowardly," and Operation Rescue condemns the use of violence to stand against abortion.
But while Operation Rescue reacted prudently with a statement concerning Tiller's death, a search of the Religious Coalition for Reproductive Choice website confirms it has yet to issue a statement concerning the murder of pro-life activist James Pouillon who was gunned down last September because of his pro-life beliefs, even though he was protesting in a completely peaceful, non-threatening manner.
The coalition's failure to issue a statement leads us to believe it has no problem with his assassination.
The Religious Coalition for Reproductive Choice is trying to diminish the basic human right to life by skirting the real issues and bringing up decades-past situations that have been resolved.
Sanford brings up the fact that Sullenger was convicted in 1988 of conspiring to damage an abortion mill. Sullenger immediately expressed remorse and regretted her actions. She served her time to society, and in the 22 years since her conviction, she has been an outspoken opponent of violence both inside and outside the womb.
A 22-year-old mistake does not characterize the pro-lifer that Sullenger is now, and her dedication toward fighting abortion through peaceful means proves that. Her advocacy gives her and Operation Rescue a better track record than the coalition of fighting against violence.
On the other hand, the coalition supports the most violent action that has been legalized: late-term abortions, which kill viable babies and cause drastic and often irreversible harm to the mothers who obtain them.
In fact, it could be argued that the Religious Coalition for Reproductive Choice is much more radical than Operation Rescue due to the fact that the coalition supports the violent termination of late-term babies, which the vast majority of Americans oppose.
The Religious Coalition for Reproductive Choice has further attempted to distract from the real issue by quoting Randall Terry and using his words to attempt to discredit Operation Rescue; however, as has been documented, Terry has not been affiliated with Operation Rescue for close to 20 years, and his words and viewpoints do not reflect the philosophy of Operation Rescue.
We believe that every human embryo deserves the right to life, and we believe that personhood cannot be stripped from somebody based on his or her period of development, just like it was wrong for Nazi Germany to strip away personhood from the Holocaust victims and for the Supreme Court — in the Dred Scott Decision — to strip away personhood from black Americans.
It is disconcerting that the Religious Coalition for Reproductive Choice supports the dehumanization of children and supports a mother's "right" to end the life of her child.