Cincinnati, OH — Operation Rescue has obtained documents that show that Walter T. Bowers, II, the physician who is one of two doctors providing hospital admitting services for late-term abortionist Martin Haskell, has attempted to hide from the Ohio Medical Board the fact that he is an abortionist working part-time at a clinic in Indianapolis.
In addition, documents indicate that the Bowers is currently under investigation by the Indiana Attorney General's office. On June 23, 2011, the Indiana "Board moved to neither renew nor deny but refer to AG's office for investigation," according to a notation placed in Bower's permanent Indiana file.
Currently Bowers' Indiana license status is listed as "Valid to Practice While Reviewed" as the investigation by the Attorney General continues.
Death of baby costs Bowers $250,000
Bowers recently reported a $250,000 malpractice pay-out related to the 2006 death of a wanted baby when he applied to renew his licenses in Indiana and Kentucky. That case caused the State of Kentucky to discipline Bowers and ban him from the practice of Obstetrics in that state and initiated Board actions against him in his home state of Ohio.
Hiding Indiana Abortion Biz
The Ohio Medical Board held a hearing for Bowers on August 11, 2011. A transcript of those proceedings shows that Bowers also stated under oath that he is licensed in Kentucky and Indiana for the sole purpose of prescribing medications to his patients that come from a tri-state area due to the geographical location of his practice in Cincinnati.
Q. So you don't have a practice, an office in Indiana?
A. No
Q. Do you have an office in Kentucky?
A. No
Q. So your sole office is in Cincinnati?
A. Cincinnati.
However, documents show that when applying for a license in Indiana in 2008, Bowers listed his business address as Clinic for Women, located on West 16th Street in Indianapolis. Clinic for Women is an abortion clinic specializing in first trimester abortions. Operation Rescue was able to independently confirm that Bowers continues to be affiliated with the abortion clinic.
"It is clear that Bowers was hiding from the Ohio Medical Board the fact that he is a part-time abortionist at Clinic for Women in Indianapolis. The future of any hospital privileges held by Bowers was at risk in the Ohio proceedings. Those hospital privileges were critical to keeping Haskell's lucrative late-term abortion mill open. Bowers stood to profit from the financial agreement with Haskell," said Operation Rescue President Troy Newman.
All about the hospital privileges
In fact, on July 14, 2011, The Christ Hospital in Cincinnati notified Bowers that he was no longer "credentialed to do Obstetrics" and that his "In-House Staff Physician" privileges would be terminated. In a subsequent letter dated July 28, 2011, The Christ Hospital agreed to defer a decision on his continued hospital privileges pending the outcome of the OMB hearing held on August 11, 2011.
At that hearing, Bowers made a plea for mercy. His statement read in part:
It would be devastating if the State of Ohio place [sic] restrictions on my license. To continue teaching and enjoying full hospital privileges, my license can not [sic] be encumbered. My continued participation is predicated on a favorable response to this hearing. My faculty status, the ability to teach residents, medical students, hospital indemnification would be compromised.
"Bowers sounded almost desperate to make sure that the OMB did not endanger his hospital privileges. He had a lot riding on that, and so did Haskell," said Newman.
The ink had hardly dried on Bowers' deposition before he went back to The Christ Hospital and got his hospital privileges fully restored.
Agreement with Haskell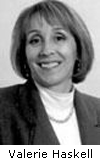 Just two weeks later, on August 29, 2011, Bowers sent a formal letter to Haskell's wife, Valerie, indicating that he had "unrestricted admitting privileges in Obstetrics and Gynecology at The Christ Hospital in Cincinnati." He confirmed his agreement with the Haskell's to "provide emergency back-up services and hospital admission for patients of the Lebanon Road Surgery Center" and bill them for his services.
That letter was used by the Ohio Department of Health to expand Haskell's variance on September 13, 2011, which allows Haskell to continue operating his late-term abortion clinic in Sharonville even though he has no hospital privileges as required by law.
Bowers' plea for leniency had worked. On October 12, 2011, the OMB issued a public reprimand for Bowers and placed him on probation for two years. The leniency of the order allowed Bowers to make a business agreement with Haskell that would financially benefit him.
Ob/Gyn Speciality?
When Bowers was questioned under oath by the OMB in August, he stated that he is not board certified in Obstetrics and Gynecology and had never held Board certification in any specialty.
However, Bowers lists his specialty as "Obstetrics/Gynecology" repeatedly throughout numerous documents obtained by Operation Rescue. Hospitals list him as a specialist in Obstetrics and Gynecology.
A document from the American Medical Association is revealing. It indicates Bowers listed Obstetrics and Gynecology as a "Self Designated Practice Specialty." He has been passing himself off as an Ob/Gyn specialist for years even though he never bothered to become Board Certified.
What else is Bowers hiding?
"It appears that Bowers was not entirely truthful with the Ohio Medical Board about his abortion job in Indiana, and that he has been passing himself off as a self-appointed expert in Obstetrics and Gynecology," said Newman. "Now we learn that he is under investigation by the Attorney General in Indiana. It's possible that they know more about Bowers than we do, and that is why the investigation is continuing."
There can be no doubt that the variance allowing Bowers to extend hospital services to cover for Martin Haskell's botched abortion emergencies was ill-advised and should be rescinded.
"If this was any other business that could not comply with the law, it would be forced to close and no one would be sorry about that," said Newman. "Abortionists should not be held above the law. Haskell lacks hospital privileges, which are required in Ohio. Excusing him from compliance is not acceptable, especially when his substitute has the problems that Bowers has. It's time for Ohio to enforce the laws as written for the protection of the public and end Haskell's variance."