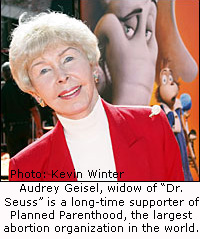 San Diego, CA – Documents released today by Operation Rescue show beyond doubt that Audrey Geisel, the widow of Theodore "Dr. Seuss" Geisel has a long history of financially supporting Planned Parenthood.
The documents include a program guide from a 1994 fundraising dinner for Planned Parenthood of San Diego and Riverside Counties, and part of a 2002 PPSDRC newsletter listing Geisel as having given the organization "$1,000 or more" over the previous year. Geisel lives in San Deigo.
PPSDRC was recently accused of bilking taxpayers out of more than $5 million over a two-year period by "egregiously" over billing government programs meant to service the poor.
The question of Geisel's support for the world's largest abortion organization were raised when pro-lifers disrupted the premier showing of the movie "Horton Hears A Who," which was attended by Geisel and a number of celebrities, including Jim Carrey, Steve Carell, and the twelve American Idol finalists. The pro-lifers chanted the movie's theme "A person's a person, no matter how small," then stood around the theater wearing red tape over their mouths inscribed with the word "LIFE."
Audrey Geisel's attorney refused to comment on questions of her support for Planned Parenthood. At least one entertainment web site reported that the pro-lifers' use of the theme of the movie "did not sit well" with her.
"It has been well known for years around San Diego that the Geisels were pro-abortion and active supporters of the local Planned Parenthood affiliate," said Operation Rescue spokesperson Cheryl Sullenger, who lived in San Diego for 23 years. "Many years ago, I remember seeing Dr. Seuss at a Planned Parenthood fundraiser that we were protesting. People find it hard to believe that someone who could write such amazing children's stories could support the brutal killing of innocent children through abortion. His wife, Audrey, has been very active in her support for the abortion group over the years, and our documents prove that."
"No matter how pro-life the message may appear, people need to be aware that some of the money people spend on Dr. Seuss books and movies ends up in the coffers of Planned Parenthood and ultimately helps perpetuate the killing of innocent children through abortion," said Sullenger. "It is something they should think hard about before they buy their tickets to 'Horton Hears A Who.'"