Get the Air Force out of the abortion business!
UPDATE BELOW!
By Cheryl Sullenger
Bellevue, NE — Jade Michelle Stobbe is an accomplished young woman who, at first glance, appears to have a bright future. She serves as a Captain in the United States Air Force at Offutt Air Force Base in Omaha, Nebraska. Having earned a Doctor of Osteopathy degree just last year, she is now a first-year resident at the University of Nebraska Medical Center where she participates in a Family Medicine program through the UNMC Air Force Training Track.
As impressive as that might seem, there is one more activity that occupies Stobbe's time – something that casts a shadow on her career.
Jade Stobbe is training to be an abortionist. Her trainer? Nationally known late-term abortionist LeRoy Carhart.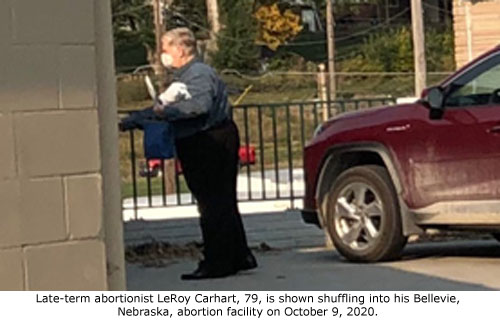 Carhart, 79, specializes in late-term abortions. At his Bethesda, Maryland, facility, he conducts abortions throughout all nine months of pregnancy, but at his Bellevue, Nebraska, facility, state law restricts abortions to under 20 weeks of pregnancy.
Stobbe has been seen at Carhart's recently renamed C.A.R.E. abortion facility in Bellevue on days when the later-term abortions take place.
On October 16-17, 2020, when Stobbe was photographed at the abortion facility, a pro-life activist who offers help to abortion-bound women outside the facility told Operation Rescue that three women changed their minds about having abortions, and are now planning to keep their babies.
One of those women was 18 weeks pregnant — just two weeks shy of the Nebraska gestational limit.
Stobbe currently holds a Temporary Educational Permit that allows her to practice in Nebraska until it expires at the end of the year.
But it is Stobbe's active service as an Air Force Captain enrolled in an Air Force training program that is most troubling. Federal tax dollars are not supposed to fund abortions or pay abortionists.
"If Stobbe's abortion training is an assignment of her residency program, we believe that Stobbe is in violation of the Hyde Amendment, which bans Federal funding from going to abortions," said Troy Newman, President of Operation Rescue. "I seriously doubt if her commanding officer understands that she is conducting abortions as an active duty officer."
In 2018, an Air Force Major named Melody Miles, who was also serving at Offutt Air Force Base at the time, was involved in a seriously botched abortion while training with Carhart. Operation Rescue was informed that once her commanding officer found out she was moonlighting at the abortion facility, she was immediately transferred.
"We are preparing complaints now regarding Stobbe's work with Carhart that involves abortions," said Newman. "There is no way taxpayers should be footing the bill for her to learn how to kill innocent babies in the womb. The Air Force needs to get out of the abortion business!"
UPDATE 10/23/2020: There have been requests for additional information and/or documentation to support this report, which we are happy to provide. Although some means of obtaining information are confidential to protect sources and methods, here is what we can say.
Some time ago were tipped by an informant that a woman named Jade was training to do abortions under LeRoy Carhart at his Bellevue, Nebraska, abortion facility. No last name was provided. We had no one by that first name listed in our database, which is published at AbortionDocs.org.
After recently receiving several photos from a local activist, we searched the Nebraska DHHS Division of Public Health locator webpage for individuals using "Jade" in the first name field and "Medical" in the profession field. The search produced four entries with licenses in Nebraska.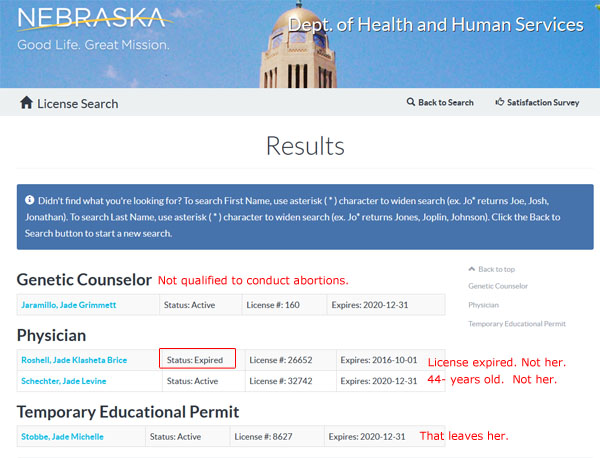 One was a genetic counselor, who would not be qualified to do abortions. The second had an expired license, so she was ruled out. The third result was found to be a 44-year old woman, which was inconsistent with the age of the woman in the photos taken at the Carhart abortion clinic in Bellevue, Nebraska in October 2020.
The fourth and final entry was Jade Stobbe, who held a Temporary Educational Permit that was consistent with our information about a new trainee at Carhart's facility.
We searched Facebook for Jade Stobbe and found a profile of a woman whose public information and photos that were consistent with information we had on the new abortion trainee. Photos from her Facebook profile (now removed) were consistent down to the hair style and color, and dark eyebrows, and build. The hair in both photos was even parted in the exact same place.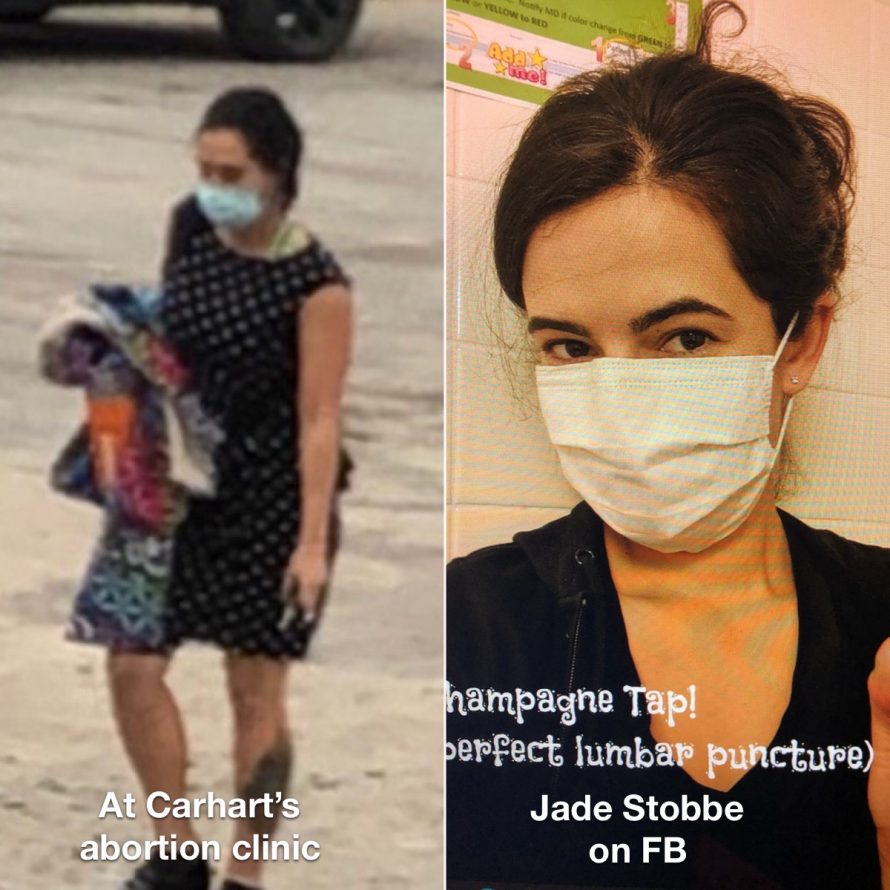 Given the fact that only one licensee with the first name of "Jade" fit the parameters of the woman in our photos, and the fact that her Facebook information put Jade Stobbe in Bellevue, Nebraska, and the fact that she shared identical physical features as the trainee photographed at the clinic, we concluded that no other person licensed in Nebraska could possibly be the trainee at Carhart's abortion clinic. The only other possibilities had been easily ruled out.
As in all of our reports, we endeavor to be as accurate as possible and freely post our documentation for all to review. If new documentation surfaces or comes to us that contradicts or disproves information in our reports, it is our policy to post corrections, as needed. So far, no such documentation has come to us. As of this writing, we are confident in the accuracy of the information we have provided, and stand by our report.