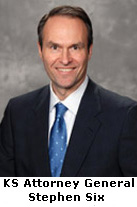 Wichita, KS – After months of refusing to honor subpoenas issued by a citizen-called grand jury investigating late-term abortionist George R. Tiller, Attorney General Steve Six has finally submitted 34 late-term abortion records to the grand jury that were gathered during an investigation conducted by Phill Kline while he served as Attorney General.
The records were from late-term abortions that took place in 2003 for which the statute of limitations has not yet expired. All patient identifying information was redacted during the Kline's tenure as AG and present no risks to patient privacy.
Six had refused to honor the subpoenas, which were originally issued in January, 2008, and filed a motion with the Kansas Supreme Court asking for the subpoenas to be quashed. The Supreme Court ruled on May 6, 2008, that the subpoenas could be honored. Six's office finally surrendered the records on May 20.
Operation Rescue has long criticized Six for his actions that have delayed the grand jury, and for his efforts to obstruct a prosecution of Planned Parenthood in Johnson County, Kansas.
"We are happy to see that the State's Attorney General has finally decided to obey the law and honor the legally issued grand jury subpoenas," said Operation Rescue President Troy Newman, who testified before the grand jury in January. "Based on his efforts to impede the Planned Parenthood prosecution, we are still concerned about the possibility of his office continuing to interfere with the ability of this grand jury to properly do its job. As always, we will be watching this very closely."