Big Pharma and FDA Cover-up

By Anne Reed
Life Legal Defense Foundation (LLDF) just secured a victory against Danco, the pharmaceutical company created specifically to distribute Mifeprex, the drug used in a chemical abortion to kill the child while still in her mother's womb.
Danco failed to label the dangerous drugs with the country of origin – China.
After a thorough investigation revealed the cover-up, Danco admitted that it failed to pay the required Customs Duties and agreed to reimburse the U.S. government $765,000. Under the False Claims Act, whistleblowers who file lawsuits on behalf of the government can share in recovery.
The sale of this dangerous China-derived chemical abortion drug has skyrocketed since Roe was overturned last summer. As a result, more than half of aborted babies in the U.S. are killed when pregnant women ingest the deadly pill. Of course, the numbers of mothers injured and killed by the drug have also continued to rise.
The Charlotte Lozier Institute has reported that chemical abortions have a complication rate four times higher than surgical abortions. Though data is incomplete concerning the ramifications for pregnant women, many deaths and thousands of serious complications have resulted from taking the chemical abortion drug.

The U.S. Food and Drug Administration's (FDA) own data reveals that at least 26 deaths and thousands of adverse events have been experienced by women since the drug was first approved.
After concerns were raised in a lawsuit filed by the Alliance for Hippocratic Medicine (AHM) that scientific testing or clinical trials were not performed to establish the drug's safety and efficacy, U.S. District Judge Matthew Kacsmaryk ruled in early April to suspend the FDA's approval of the drug.
Just one week later, on April 21, the day before the suspension was set to take effect, the U.S. Supreme Court froze the lower court ruling, ensuring the drug's accessibility unless already prohibited or regulated by state law. For now, while the lawsuit filed by AHM plays out, babies are still being killed and women injured by use of Mifeprex, together with Misoprostol, the second drug in a chemical abortion that causes the dead child to be expelled.
We have come a long way since 2000, when the abortion pill – known then as RU-486 – was first approved by the FDA as one of then President Bill Clinton's final accomplishments. Chinese officials confirmed at the time that Hua Lian Pharmaceutical Company, based in Shanghai and owned by the Chinese Communist Party, was manufacturing the raw compound used to make the deadly drug.
Operation Rescue has fought this battle since it first discovered in the late 1990s during its annual survey that some abortion clinics were providing abortion inducing drugs to women with no physical exam, but simply by talking with them by phone or video conference. These moms received no physical exam to rule out ectopic pregnancy or other conditions that would have created risks to her life.
Operation Rescue worked with legislators in nearly a dozen states to pass laws making these types of telemed abortions illegal. Still, as the FDA has become increasingly reckless in removing safety protocols and making the pills more widely accessible, American babies are being flushed down toilets and their mothers are left traumatized by the reality that they killed their own babies.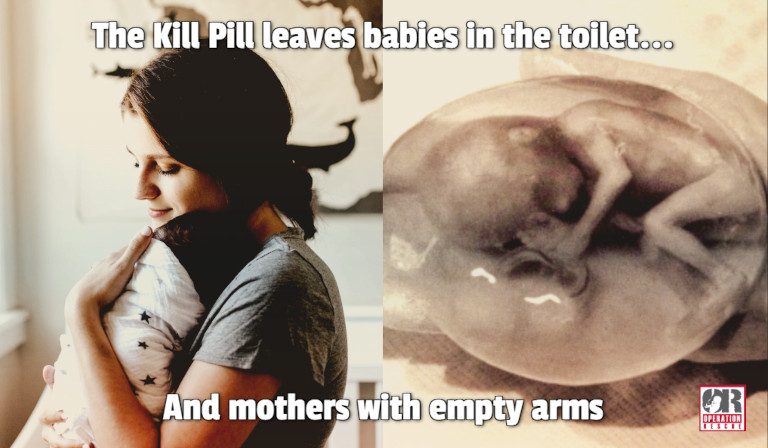 Danco made every effort to hide the manufacturing location of the deadly pills for more than two decades, and the FDA also refused to release this information, claiming "individuals associated with the development, marketing and distribution of mifepristone (the generic form of Mifeprex) for medical termination of early pregnancy may become the targets of threats of harm or violence."
"I am proud that our friends at Life Legal Defense Foundation, the legal firm that represents Operation Rescue, have courageously stepped up and fought for justice, holding Danco accountable for its highly corrupt conduct," said Operation Rescue President Troy Newman.
"In addition to the monetary reimbursement to the U.S. government, LLDF's brave actions have also alerted the American people that the 'kill pill' is manufactured in China, much like the COVID-19 virus, to wreak havoc on our nation. This drug provides a means to kill as many Americans as possible with the least amount of effort. It is time to see the FDA held accountable for its part in this cover-up as well."