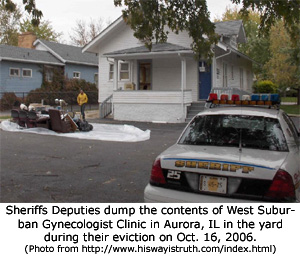 Aurora, IL – What was once a well-known abortion clinic in Aurora, Illinois, will now offer only prenatal care to women, according to a special agreement made between the building's new owner and tenant.
Formerly known as the West Suburban Gynecology Clinic, the building was the site of steady pro-life protests over the 15 years that abortionist Aleksander Jakubowski operated there. In 2005, Jakubowski retired and rented the office to abortionist Louis Meyers, who was evicted by sheriff's deputies in October, 2006.
Jakubowski sold the building to Ray Gonzalez, who will lease the former abortion clinic to Dr. Gustavo Sanchez. Both Gonzalez and Sanchez agreed that they would place a legal restriction in their special use permit that no abortions would be allowed at the building.
This adds to a growing list of former abortion clinics that have been bought and re-purposed by pro-lifers across the country.
"The trend of pro-lifers buying abortion mills and using them for life-affirming purposes continues in the case of the old West Suburban Gynecology building. What was meant for evil, is now being turned to good. It is an amazing picture of good triumphing over evil and of life prevailing over death," said Operation Rescue President Troy Newman.
Operation Rescue bought and closed an abortion clinic in Wichita, Kansas, in 2006, and has converted it into its national headquarters. A memorial for the pre-born is planned.
"This is symbolic of what is happening in our nation today. Americans are rejecting abortion and becoming increasingly pro-life. People have realized the truth that what everyone was told was supposed to liberate women has only caused immeasurable human tragedy and heartache. We strongly believe the days of decriminalized abortion on demand are numbered," said Newman.
Related stories:
Abortion Mill Evicted By Former Abortionist – Current Abortionist Missing
Operation Rescue Buys Abortion Mill: Closed Clinic Will Become OR Headquarters and Memorial to Pre-born